DPP predicts key consumer technology trends for CES 2019
The Digital Production Partnership (DPP) has revealed the key trends it predicts we'll see at the Consumer Electronics Show in Las Vegas in January 2019.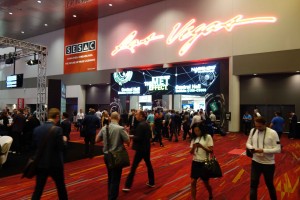 The predictions were made by DPP Managing Director Mark Harrison at the HPA Creative Tech event in London on June 27. The DPP's CES work is enabled by Member company Covatic, who specialise in creating personalised consumer experiences for media.
"The headline for CES 2019 is that the future will be hiding in plain sight!" says Mark Harrison. "There will be lots of voice control, enabled by machine learning, and we'll see some interesting examples of personalisation. They'll give us glimpses of what truly usable personalisation, that works seamlessly across different environments, could look like. But the technology needs to catch up before we see the full picture."
Harrison picks out seven major themes for CES 2019:
On the shoulders of giants
Around 4000 companies exhibit at CES. But the five American technology giants – Apple, Amazon, Google, Facebook and Microsoft – and the three Chinese technology giants – Alibaba, Baidu and Tencent – are the driving force for mass adoption of most global innovations. So, the subtext for every CES trend will be: what will the tech giants do next?
Putting the things into Internet of Things
Machine learning works best with very narrow problems to solve. So, we'll see plenty of small scale integrations for different parts of our lives – all in specific, controllable environments with a clear utility, such as the car, retail, workplace and public spaces. It means we'll see prominence for business to business technologies, and far more confidence from infrastructure specialists than gadget makers.
Say what you want
The soundtrack for the show will be the human voice. We will see it integrated into everything. Smart speakers will be very present again, and CES 2019 will bring into sharp relief the difference between a voice activated device and a smart assistant. The former will often look more convincing than the latter – even though it does less.
Looking after number one
CES 2014 was very focused on personal tech; 2019 will be too. We'll see an incoherent mix of personalisation (some great, many not), personal security, data privacy, wellbeing, and self-control tech (devices that tell you off if you use them too much). The sell will be that we can now control how much technology controls our lives, if only we buy the right technology.
Well made in China
We expect the presence of China to be even stronger next year. The major players, Alibaba, Baidu and TenCent will make statements around connected infrastructure, while the big device manufacturers such as Huawei, Hisense and ZTE will be where some of the best quality products are to be found.
AR on the move
It was always likely the experiential offer of Augmented Reality, combined with the ubiquity of the smartphone, would be where the immersive technology breakthrough would actually happen. We'll see it this year around mobile AR apps for shopping, travel, games, messaging and specialist training.
The first signals of 5G
5G promises to bring high speed, mobile connectivity without the need for ubiquitous Wi-Fi. The standards have been defined, but the technology isn't yet ready. We expect 5G to be a major theme in 2020; but in 2019 we'll see it gaining pockets of attention from some of the bigger infrastructure players.
The DPP will publish its CES 2019 report, enabled by Covatic, in January 2019.