DreamHack Open CS:GO tournament streamed live via 5G
The 5G-enabled live coverage was a first for an esports event on North American soil
The Swedish esports production company DreamHack and AT&T made a little history during the Dreamhack Atlanta esports event last weekend. During the festival, a DreamHack Open CS:GO tournament was played onsite and streamed live utilising 5G workflows, making it the first 5G-enabled live coverage of an esports event in North America.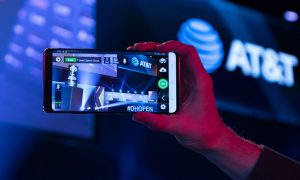 Using 5G, the DreamHack production team was able to take viewers on Twitch to places completely unique, including leveraging smartphones to embed viewers with on-air talent and fans at the event. Even a professional cameraman was able to freely move about the competition and feed content to the live stream utilising 5G wireless network technology provided by AT&T.
"For this first event, fans at home [were] able to get a unique insight both backstage and from the seats at the onsite event thanks to AT&T's 5G technology," said DreamHack chief product officer Michael Van Driel. "We're excited to continue to build on this and leverage 5G technology to evolve esports broadcasting."
The dedicated 5G network was deployed by AT&T in partnership with Ericsson and the event's location, the Georgia World Congress Center. Eagle-eyed viewers may have noticed AT&T and 5G logos on the screen throughout the live stream. When those graphics were displayed, it indicated when camera angles and content was being made available thanks to 5G.
"What really matters with 5G is what you do with it, and that's why we're putting it in people's hands and working with industry leaders like DreamHack and ESL to create first-of-their-kind experiences that thrill fans even more," said Shiz Suzuki, assistant vice president, Sponsorships & Experiential Marketing for AT&T Communications. "Through our relationships across the gaming and esports ecosystem, we're able to show how 5G will eventually enable content creators to capture higher-quality live-streaming video at a faster rate, get it to the end user more quickly and create new fan and event experiences."
This is just the latest live sports production bolstered by the efforts of 5G from the team at AT&T. In September, the company added four 5G activations at AT&T Stadium in Arlington, Texas, the first 5G-enabled stadium in the United States. Those activations included popular deployments like the 'Pose with the Pros' video screens that went viral earlier this season.
Fans are also capable of overlaying stats on the field of play if they are using a Samsung Galaxy S10 5G mobile device. Back in July, the NBA also generated plenty of buzz when the league broadcast an entire NBA Summer League game using exclusively smartphone cameras streaming on a 5G infrastructure.