EBU Members report huge European audiences for FIFA Women's World Cup
EBU Members have reported record audience figures and coverage of the FIFA Women's World Cup 2019, signalling a landmark moment for women's sport.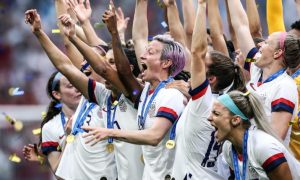 Europe's public service broadcasters have brought the excitement, action and goals of this thrilling tournament to millions, free-to-air, both those within Eurovision Sport's 38 territory contract and those with individual agreements.
Initial data from territories within the Eurovision Sport contract shows high audiences and significant increases in total hours viewed compared to 2015, tapping into the growing audience appetite.
The total hours viewed of the Final of the Women's World Cup amounted to 15.1million versus less than one million total in 2015. This fifteen-times increase is a reflection of the huge increase in broadcasts hours for the tournament across the territories in Eurovision Sport's contract (five times more versus 2015).
NOS (Netherlands) recorded a huge 88% marketshare supporting the national team in the Final. The match achieved a peak audience of 6.3 million and average of 5.4 million, shown on its flagship channel NPO1. The semi-final achieved a 78.5% market share, with a peak audience of 5.7 million and average of 5.0 million, again on NPO1.
Countries with no national team involvement have also seen impressive increases. Czech Television saw its market share almost tripled for the 2019 Final compared to 2015 on its CT Sport channel (from 2.91% for USA versus Japan 2015 up to 6.71% for USA versus Netherlands 2019), while RTV Slovenia reported that the final match was very well received by audiences with its marketshare increasing sevenfold for the 2019 Final compared to 2015 (from 2.0% in 2015 up to 14.20% in 2019 on SLO 2 Channel).
Eurovision Sport provided an online service, football.eurovisionsport.tv, to complement the Member broadcast proposition. Fans were able to access the platform and select live match coverage and were either redirected to their national broadcaster, or were able to access the content online. The platform was most accessed in Switzerland, Greece, Turkey, Estonia and the Czech Republic. Users spent an average of 24 mins on the platform with an audience demographic of 32% women, 55% under 34 years old.
Stefan Kürten, executive director Eurovision Sport, commented: "We have definitely witnessed a landmark moment in the broadcasting of women's sport, and the role of Europe's Public Service Media in that is significant. EBU Members have placed the FIFA Women's World Cup centre stage and offered high quality, free-to-air coverage to millions. This invaluable support of the women's game has brought it into everyone's lives and contributed greatly to placing it at the top of the sporting agenda.
"It is also a very positive trend to see a significant increase the level of coverage and engagement in territories without national team involvement. The team at Eurovision Sport have worked hard to develop the interest in these territories within our contract and secure broadcast support, and this has really paid off, paving the way for future development in the broadcasting of women' sport across Europe."