Editorial comment: Which way forward for remote production and road warriors?
The hottest topic in sports production continues to be the move to remote production. More and more channels, leagues and OB providers are making use of fibre connectivity to keep personnel back home, a move that cuts costs, the size of the compound, and may ultimately be the key to the future of the industry.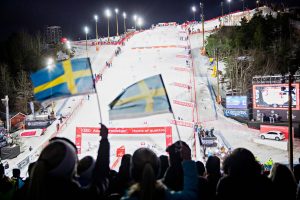 The biggest effort to date was this past winter when SVT, Sweden's national broadcaster, produced the FIS Alpine World Cup held in Åre, Sweden, approximately 450 miles north of Stockholm. It wasn't that long ago when that effort would have required hundreds of production and engineering personnel to be on site. But instead two Telia 100 Gbps circuits were used to transport all camera and audio signals (approximately 80) from the course to SVT's production centre in Stockholm.
The effort took advantage of equipment SVT already owned in its production centre but also allowed those working on the project to live at home and commute to the office rather than staying in a hotel or house rental in Åre.
More and more this philosophy is going to become the norm, especially for large multi-day or week events. And it is also going to significantly change the culture of a sports production community that has, for decades, proudly been an industry built on road warriors who embrace a career that includes a steady diet of travel.
When we reported on SVT's efforts Adde Granberg, SVT, director of technology, CTO, laid clear how new ways of working will impact the lives of those who work in the sports production industry.
"It definitely changes the work routines of a lot of people, but it doesn't change anything negatively for the viewer. I've had the pleasure of travelling around the world to work with big events since 1993. But how much is all that personal satisfaction worth when the viewers get nothing in return for the additional expense and environmental impact?"
Much of the discussion around these efforts has focused on how it is done technically but we are just at the beginning of understanding what it will mean for those who are attracted to a career in sports production. The grind of life on the road is attractive to some but there are also plenty of people who have not become part of the industry because of the demands of travel.
And the attractiveness of this way of working isn't just for those events that require a long flight. NEP's Andrews Hubs in Sydney and Melbourne have been up and running for a year and many of the productions that are produced at those two locations are of events that are within a relatively short drive for the crew.
Logic would say that the crews would prefer, if possible, to head out to the stadium but the feedback has been the opposite. They have embraced calling the Hub home as it means avoiding the traffic and logistic issues everyone faces when heading to a sports venue on game day.
Will this new way of producing live sports events make a career in the industry more attractive? One can only hope so as the industry is facing a looming global crisis of finding qualified engineering and production talent willing to step up to the challenge of a career in live sports production.
Yes, there are plenty of road warriors today who can credit life on the road as something that has saved their personal relationships. But in a world where younger workers are looking for a healthy work/life balance embracing new remote production methods may do more than just save money: it may save the industry.