Ekstraklasa launches football streaming platform for Polish diaspora
Poland's top football league Ekstraklasa is launching its own OTT platform. Ekstraklasa.TV, the new streaming website and app, is intended to be a source of revenue for the Polish league for the years to come, a way of reaching fans from all over the world and a brand building tool.
"Changes on the media market are inevitable. We are trying to figure out today the future preferences of broadcasters and fans for the next five, even ten years. We want to be prepared strategically and technologically, so we can make optimum use of all the possibilities and provide our fans with the best possible product — in a convenient and easily accessible way, explained Marcin Animucki, president of the management board of Ekstraklasa.
"It is our largest technological project, as it offers entirely new opportunities regarding the league's global reach, direct contact with fans, understanding their expectations and monetisation of media rights abroad. This platform is an important part of our brand building strategy, confirming the Ekstraklasa's position among the most innovative football leagues in Europe," added Animucki.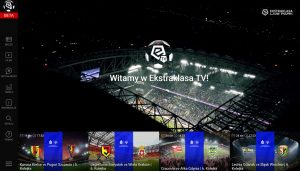 Ekstraklasa.TV provides the ability to watch live match broadcasts with a Polish match commentary. These are available in the countries not covered by exclusive TV broadcast licenses, i.e. outside of Poland, where nc+ and TVP have purchased licenses, and the Balkans, with Planet Sportís rights to broadcast matches.
Football fans abroad — from the Polish diaspora, travelling abroad or foreigners supporting Polish football teams — can watch live broadcasts for a fee. It is possible to buy access to a given match (Pay Per View) for EUR 2,99 or watch all match broadcasts within a subscription — monthly or per season for EUR 6,99 and EUR 49,99 respectively.
In the first month match broadcasts can be watched abroad for free (in a popular Try&Buy model). Other content, including all the materials published domestically, are free of charge and available after log in. Shortly after each match for example the fans are able to watch the highlights on the Ekstraklasa.TV website and app.
They also have access to the league news and various videos from the current and the previous season. The service is compatible with Chromecast and Airplay, devices that allow the image from the phone to be displayed on the TV screen.
The producer company of the league — Ekstraklasa Live Park — is responsible for the Polish implementation of OTT. It provides all video content and cooperates with the platform's developer OZ Sports, a technology company with operations in the Nordics, South America, Miami and London, which specialises in football projects, sports production and global broadcasting.
OZ Sports works for CONCACAF (The Confederation of North, Central American and Caribbean Association Football), the Dominican league and the top female football league in Sweden. The company also participated in the creation of online video platforms for BBC (BBC iPlayer) and SKY (Sky by Wire).
Although many sports organisations have declared they wish to launch streaming platforms, only a few of them have delivered on their announcements so far. UEFA decided to make such a move, launching its OTT platform just a few weeks ago. In addition to international matches, the Federation also shares videos from Bundesliga. This spring, an OTT platform by the Spanish La Liga also kicked off. American NBA and NHL, too, share their video content via their own streaming platforms.
The Ekstraklasa.TV platform is launching in Polish, but soon it will also be available in English. Changes are made on an ongoing basis, additional functionalities will be introduced systematically. The service is currently offered for browsers at www.ekstraklasa.tv and as a test in the mobile app (first on iOS and then Android) and in the next few months it will be available on Smart TV and Apple TV.