Ekstraklasa makes content more accessible globally with signing of new contracts for international broadcasts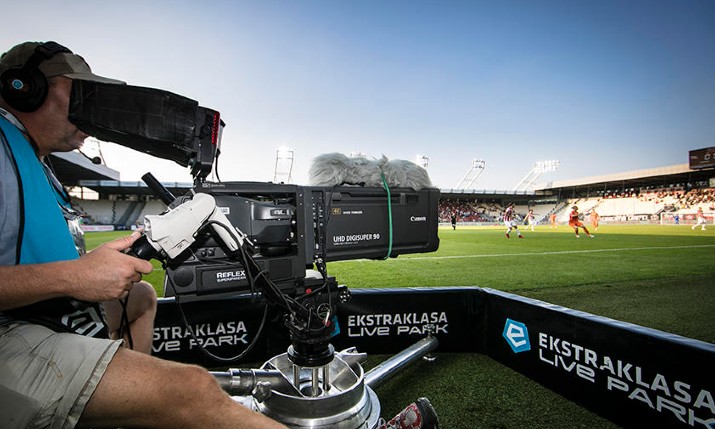 Polish football league Ekstraklasa has continued its efforts to expand the broadcast of its league matches abroad with the announcement of a number of new agreements.
For the 2020/21 season, agreements covering 17 territories have been signed, including the latest contract for Indonesia and East Timor.
The league is also in the process of extending agreements with current partners for next season. New contracts have already been signed for seasons from 2021/2022 to 2024/2025 regarding broadcasts in Germany, Austria and Switzerland, and with the league's biggest partner in terms of international rights, IMG Arena, which handles Ekstraklasa's international betting rights around the world.
Commented Marcin Animucki, president of the management board at Ekstraklasa: "We are constantly working to make our games more accessible in various countries. This allows us to maintain ties with Polish fans, but also ensures the growing popularity of our league. It also happens, as in the case of Indonesia, that the interest in our games is connected with following the results of our foreign players by their compatriots. Regardless of the motivation, the phenomenon builds the value of our league, provides additional resources and promotes the popularity of our games.
"Thanks to our own production company, Ekstraklasa Live Park, we have a full technological background that allows us to quickly make the broadcasts available all over the world in the highest possible quality. This makes our talks with broadcasters easier. We have a ready-made product for them and we can implement new contracts immediately."
Broadcasts of PKO Bank Polski Ekstraklasa matches in Indonesia and East Timor are conducted by Mola.TV in the 2020/21 season. This platform shows three matches per match week, including each Lechia Gdańsk match; young Indonesian player Egy Maulana Vikri is in the Lechia Gdańsk team.
Polish matches are made available with English commentary prepared by Premium Sports. Mola.TV has also rights to show top European football competitions in Indonesia, including the Bundesliga until 2025 and the English Premier League until 2022. In addition, the service shows the Nations League and the English League Cup.
Currently, PKO Bank Polski Ekstraklasa match broadcasts are available in 17 international markets. Alongside Indonesia and East Timor, all matches are shown in Russia via Match.TV and in seven Balkan countries via Planet Sport TV – Serbia, Croatia, Slovenia, Bosnia and Herzegovina, North Macedonia, Montenegro and Kosovo.
In addition, two matches in each match week are shown in Germany, Austria and Switzerland via Sportdigital TV and the Onefootball platform. In England and Northern Ireland the matches are broadcast via Premium Sport and FreeSport, in Portugal via Channel 11, and in Israel via Charlton TV sports channels. Broadcasts of all matches all over the world, except for Poland and the Balkan countries which are covered by exclusive licensing agreements, are also available on the league's OTT platform, Ekstraklasa.TV, in a subscription or pay-per-view model.
It is already known that in the next four seasons, selected matches from each match week will also be shown in Germany, Austria and Switzerland. This is the result of a new contract Ekstraklasa has signed with Sportdigital. Based on the licence agreement, Sportdigital will be allowed to show matches on Sportdigital TV and match highlights in the 'Scooore' programme on Sport1 (free-to-air TV), on the 'commentaro' platform and on the DAZN platform. Under the new contract, Sportdigital will have the right to broadcast 34-50 matches in each season. In parallel to the TV broadcast, all matches can be watched on Ekstraklasa.TV.
"We are very happy that we were able to extend our contract with Ekstraklasa, which is very popular with our viewers. With the top games and highlights from this competition, our programme offers a true and long-term beacon for the Polish community, which is the largest in Germany after the Turkish community. The games from Ekstraklasa are a very valuable complement to our live games programme, especially on Friday and Monday," said Gisbert Wundram, managing director at Sportdigital Fussball.
Ekstraklasa has also extended the licence agreement with British company IMG Arena, with which the league has been co-operating in the field of bookmaking rights all over the world, excluding Poland, since 2016. The new contract will cover broadcasting rights in retail betting shops and betting corners and on online platforms in the 2021/2022-2024/2025 seasons.
"Ekstraklasa is an ambitious organisation with an entertaining product. We are delighted to be extending our partnership and to stream a growing number of matches. Football is the world's most popular sport and we are committed to ensuring we have a high-quality, diverse portfolio of content to engage fans across the globe," commented Freddie Longe, executive vice president and managing director of IMG Arena.
Since November 2018, Ekstraklasa has been independently selling centralised media rights domestically and internationally. Since 2011, the company has also been producing broadcasts of all matches via its subsidiary, Ekstraklasa Live Park.
The signal is produced in the highest world standard 4K UHD (Ekstraklasa was the first entity in Poland with its own 4K broadcast vehicle) and transmitted via fibre optic cable to the London distribution centre – BT Tower – from which broadcasters from all territories can receive the signal. Comprehensive preparation of the technological background allowed the league company, among others things, to quickly sign a number of contracts for the broadcast of the resumed league during the spring lockdown.