Elemental Technologies 'thrilled' by response to first 4K 4Charity race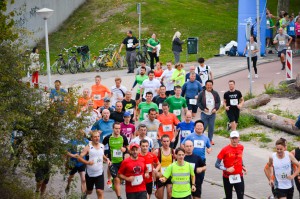 More than 250 people took part in the industry's first annual 4K 4Charity fun run, which was spearheaded by Elemental Technologies and took place on Saturday 13 September during IBC 2014.
In total, the 4K race attracted more than $20,000 (US) from individual runners and corporate sponsors including Microsoft, AJA, deltatre, Dolby, Gill Craig Consilting and Elemental itself for Oxfam International.
The male (and overall) winner was Duncan Burbidge, CEO of StreamUK, whilst the female victor was Laney Lewis, senior director of marketing at Clearleap.
"We are absolutely thrilled by the reaction to the first 4K 4Charity race," says Keith Wymbs, chief marketing officer, Elemental Technologies. "We'd like to thank all the runners who took part, and all the companies who lent their support to such a brilliant cause. Suffice to say, we expect that this fun run won't be our last!"