Euro Media Group advances expansion in Italy with complete refurbishment of 3Zero2 Studios
At the end of June 2020, Euro Media Group (EMG) acquired Milan-based studios operator Infront Centro di Produzione TV (ICP), taking over all productions.
ICP's central Milan location, which occupies an area of over 6000 square metres, provided EMG with an opportunity to launch a new Italian subsidiary, 3Zero2 Studios, which joins three existing ones: 3Zero2, Global Production and Netco Sports.
EMG immediately modernised its 3Zero2 Studios facilities in order to rationalise and enhance the headquarters, installing remotely controllable galleries, a new master control room, modular and reconfigurable production areas and crucial connection infrastructures based on fibre.
SVG Europe spoke to Claudio Cavallotti, Netco Sports general sales manager, to get the details.
Is this acquisition part of a wider European expansion scenario?
Yes. Also, in Italy, we are following the development lines of the international EMG group, which continues to grow by expanding its range of services through mergers and investments.
Our 'co-ordinated media factory' is completed by this acquisition and this will allow us to give customers an even more turnkey product, with a series of integrated services along the entire AV supply chain.
Did the modernisation operations start immediately?
After about a month of design and pre-engineering we started, and in about 30 days we created an integrated, but distributed and reconfigurable, remote hybrid production system that works and is now fully operational.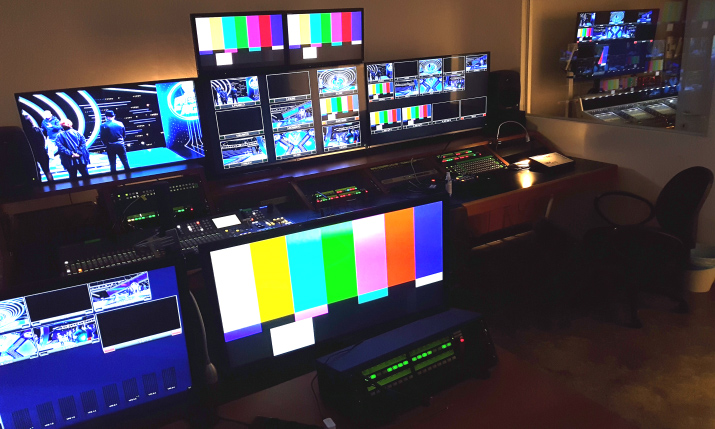 Furthermore, a new MCR and an important link node with [Italian tower company] EI Towers connect us to the 'mother' MCR of 3Zero2 in Cologno, so from 3Zero2 Studios we can now carry out international productions on behalf of customers operating from remote offices in Italy and Europe.
What makes EMG in Italy different from its competitors?
For sure an offer of integrated digital and REMI TV services at 360 degrees.
From a pre-existing, rigid main gallery we created three new smart galleries to better manage productions of all sizes covering the three main shooting studios – one of 1150sqm, another of 1100sqm and a third of 500sqm – as well as smaller studios of 140sqm and 160sqm.
We have by far increased the efficiency of the existing connection pipelines between 3Zero2 in Cologno and Netco Sports already in the same area, all while envisaging new development guidelines in data management, graphics, artificial intelligence, 5G, quantum computing and the virtual, extended, mixed and enhanced reality sectors.
What directions will EMG take in Italy and how will it face 2021?
The basic idea is to go far beyond the consolidated, localised broadcast techniques; the new tech structure allows us to route and manage a large number of services integrated with the new intelligent central control systems.
In addition to the normal workflows – that is recorded and live TV productions – we now feel proactive in remote TV production services originated in venues virtually scattered all over the world.
Another area in which we expect strong growth is digital – that is the ability to develop apps, services and websites, OTT platforms, virtual reality and artificial intelligence services.
What is your strategic plan for the market?
It is to propose EMG in Italy as a single entity based on four complementary subsidiaries and as a unique brand that truly works at 360 degrees.
We feel we are unique in the Italian market. In fact, we wanted to create a production centre that could guarantee maximum operational flexibility for existing and future television productions, in Italy and abroad, interconnected with other EMG remote production centres in Europe.
Which sports clients do you work with?
In this area we are currently working with international clients such as Sky, DAZN, Eurosport and others.
We have just revamped the playout for five years with Discovery and will be managing basketball for the next two years. In addition to that, we work for Lega Serie A, B and C, and Eleven Sports.
We are capable of providing services for both high quality and large productions; from Champions League to minor leagues and federations. However, we can also provide production services for low or very low budget events in football, basketball, volleyball, skiing and something new, yet to be confirmed.
What are the main technologies involved?
We have created a new technical nerve centre, a master control room, and given shape to a different structure based on new smart control systems connected on the most advanced optical fibre systems possible, extending the traditional concept of localised broadcast techniques.
The new control rooms are made up of scalable and modular sections that can be moved, disassembled and re-composed, as required, in any environment within the production centre.
We have also implemented new ingest systems with shared integrated servers to reinforce the existing setup, as well as storage.
The brands involved are: Riedel for intercoms and all integrated communications; then video and audio routing 'glue' and video mixing are entrusted to Imagine Communications, Evertz, Lawo and Grass Valley; system integration controls are entrusted to Robit interfaces; specific processes for audio are Stage Tec, DirectOut, DiGiCo, Yamaha and Lawo; the video servers are EVS and BLT; and most of the cameras are Grass Valley Group with Canon lenses.
How did you manage activities during lockdown with the lack of sporting events?
We have been investing a lot of energy, and the COVID pandemic has only accelerated some processes that we had already started as a natural step, linked to the development of IP technologies.
Today we are able to combine and virtually unite all the technical areas of TV production by appropriately assigning the exact technology or firepower that is needed in every situation.
And, above all, the assigned personnel work as if they were in a single area, although each department is physically in a different location, in compliance with current workplace anti-COVID safety regulations.
Has the COVID pandemic created many problems for you?
Not really. We are resisting the second wave of the pandemic in a coherent way, managing with current health protocols, social distancing, total area sanitation three times a week, and then masks, ozonizers and gels. Some 80% of staff are smart working and everything can be controlled remotely.