Euro Media Group in action as International Swimming League makes a stop in Naples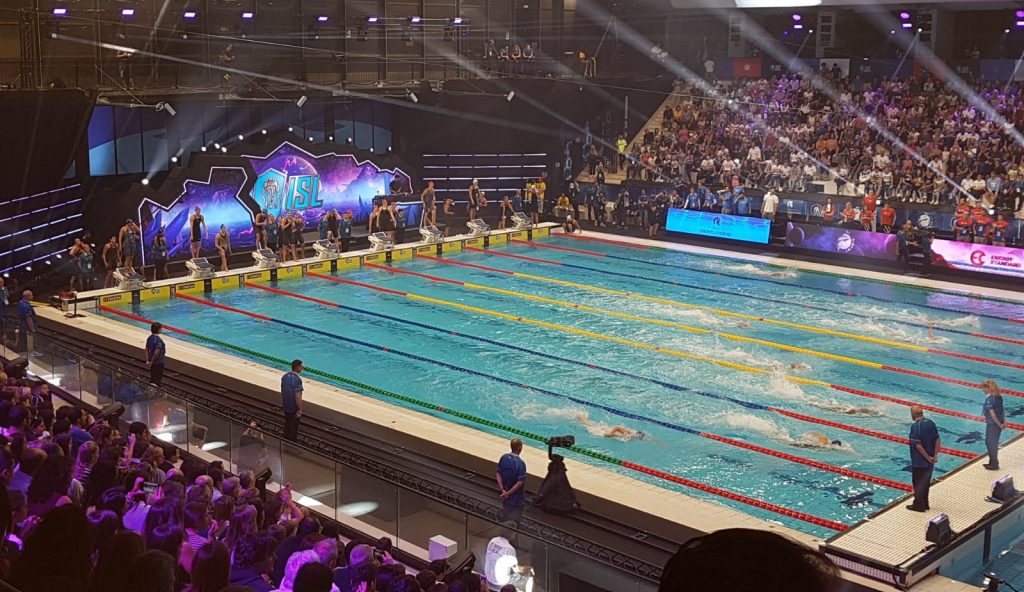 Naples hosted the television production of a new format invented by IMG for the International Swimming League. The event took place from 10 to 13 October at the Felice Scandone pool, where four international teams faced each other in mixed swimming competitions in a 25-metre short pool.
The format is optimised for TV with great use of virtual graphics, underwater cameras, aerial shots, dollies and special points of view.
Euro Media Group (EMG) is the technical partner group that supports IMG in all European events of which the first was in Naples, creating this new initiative in the world of professional swimming.
The idea
They started from the concept that swimming receives a very small fraction of media attention and budgets compared other sports. Considering that swimming athletes receive very little money in their careers when compared with other sports professionals, ISL decided to change the cards on the table.
So with IMG they designed and launched this television format that puts the world's best swimmers in the water, creates mixed teams and leads them to clash in different cities around the world. This allowed them create media events broadcast by channels all over the world, such as Eurosport for Europe, which together add up to an audience of over 10 million viewers expected over a five-year period.
The International Swimming League started in Indianapolis in October and progresses through seven venues in Europe and the United States before culminating in the finals in the Mandalay Bay Hotel in Las Vegas on 20 and 21 December.
Technical partners
This project required first-rate technical partners and it was provided by the firepower of the pan-European Euro Media Group which, for the Italian leg, relied on its CTV Outside Broadcasts and Global Production subsidiaries, for the television production of the event — two hours and 30 minutes of live broadcast over two days.
Renato Mancini, Global Production CTO said: "The production team of 35 people provided two days of set-up, one of tests and two of live competition, with international broadcast on Eurosport in HD 1080i @ 50Hz for Europe and worldwide retransmission. We committed OB8, our 4K HDR flagship that manages up to 30 cameras, as well as a complex mix of specialty cams provided by our 'British cousins' Aerial Camera Systems, also of the EMG Group."
"The camera complement included a RobyCam 3D cable cam suspended with cables and equipped with sensors, a Polecam SuperLoupe Mini, Super Loupe (DVS) with operator and diving suit, four underwater cameras and three PTZ units. An ASC Hero Cam was placed near the starting blocks along with two mini POVs and the PTZ underwater cameras were remotely operated on Furio tracks.
"Then we used two radio cameras with EI Towers (Industrial Electronics) links, one of which was a Steadicam, an Ultra Motion from Digital Vidéo Sud (EMG subsidiary), and other 'normal' Grass Valley LDK 86N with 80×9 lenses, shoulder operated, on tripods and on rail tracks and for ENG," said Mancini.
"We tried to solve some 'problems of youth' of the format, like the management of a very tight production rundown, without downtime and with a lot of graphics, and the positioning of the cameras in an environment like the pool that was — of course — different and smaller than the pool in Indianapolis.
"We had to find the right solutions to respect the format, including every shot angle and trying to be faithful to the original was not easy: there were many challenges to consider.
"Audio was important and in addition to the standard set-ups for stereo footage and international commentary in English, we used hyper cardioid microphones for the two commentators and a guest in the commentary box near the pool. Moreover the team captains were miked and connected, thanks to radio intercoms, with the production coordinator on board the vehicle.
"As host broadcaster Global produced an international feed with graphics and a registered clean feed. The OB8 vehicle, although oversized for the event, was chosen above all for the great availability of space on board, and the ability to solve unexpected problems," said Mancini.