eSerieA 2022 championship brings EMG Italy into the esports arena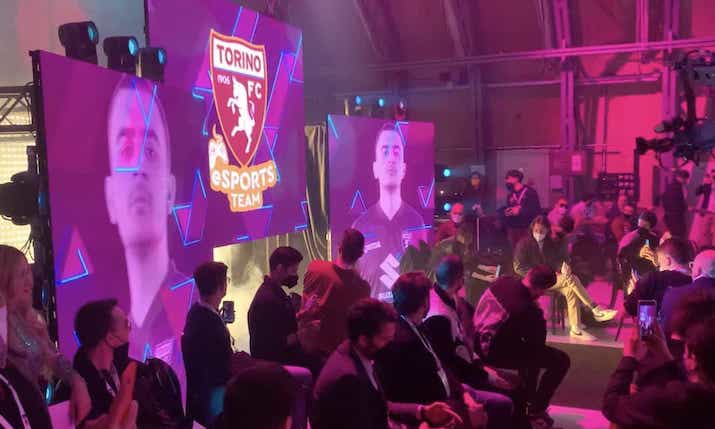 The world of video games has come a long way since players played alone or with friends in the same room. Today, esports competitions have become organised multiplayer games, complete with professional tournaments followed by millions around the world.
The esports market includes many different types of multiplayer games with fights, sports, static games, strategy, fantasy and much more all proving popular. This has led to the creation of numerous competitions and leagues featuring sponsored teams, which report growing revenues across the globe.
EMG Italy, a global provider of broadcasting services and multimedia solutions for sports, entertainment and live events, has also taken an interest in, and devoted a lot of energy to, the esports sector.
In two of its studios in the Via Deruta production centre, live filming of tournaments is carried out with show modes very similar to those of real-world sports matches: referees, commentators, streamers (in person or remote production) orchestrate and illustrate the matches.
This includes the recent eSerieA 2022 championship, an online tournament open to all Serie A fans, which encouraged thousands of gamers to have fun trying to win the title of Champion of Italy. Organised by Lega Serie A, in collaboration with TIM, Infront and PG Esports (PGE), the tournament started last November with Online Qualifiers, followed by the Regular Season and the Playoffs that decided the eight teams that competed for the scudetto.
Studio 7 of EMG Italy hosted the battle of the Final Eight for the second edition of the tournament. Obrun2002 of Torino FC was crowned the winner of last month's final between Venice and Turin with Karimisbak's Venezia beaten on penalties.
The event was broadcast live with Italian commentary on the Twitch and YouTube channels of the eSerie A TIM and on TimVision. Other broadcasts were delivered on the Lega Serie A YouTube channel and the EA Sports FIFA Twitch channel with English commentary.
Max Ceriani, in-house TV production manager and director at EMG Italy, who followed the birth and development of the esports phenomenon, explains: "Esports are comparable in many ways to a real sporting event. They can broadly be divided into two macro categories: the most famous classic games and online multi-players.
"Usually online games work in one-to-one mode in which two players compete against each other, each managing a team, or in multi-player mode, such as football, in which each real player controls only one virtual player.
"The networks that broadcast these clashes are online platforms such as Twitch and YouTube which tend to offer two types of videos on their respective channels to subscribe to: those made by pros, who teach and explain the various techniques for each game, and the actual live matches, the official championships of the various sports.
"The target of these programmes is usually an audience not typically interested in linear TV and who prefers to carve out a personalised schedule on request, precisely on these and other platforms."
The finals of some famous titles are organised in impressive venues where the major players compete in front of a large audience, gathered in front of gigantic screens.
These events can generate revenues in the billions of dollars and therefore even traditional TV has begun to take an interest in them, creating models of use that are based on a mixture of the two genres.
As television operates with a resolution of 1920×1080 pixels, while games operate in 1080p60, considered native 4K, EMG has recently updated its structural technical production techniques to ensure compatibility with all situations that operate in full digital, including esports events, while also adapting to televisions that meet this standard of image, representing a big step forward in digital connectivity.
Historically, the first approach
The first broadcasts dedicated to esports created by EMG Italy were House of Esports on the DVBT channel Dmax. These made extensive use of augmented reality, with cameras moved with tracking and therefore able to create zooms and pans interfaced with proprietary software.
Today the main client is PGE, which creates tournaments, championships and broadcasts of national and international esports events. The format now features an anchor presenter who sews the incoming contributions from two micro cameras engaged in filming the players physically on site.
In addition to these, four broadcast cameras are engaged: two shoot close-ups and wide fields for the presenter and two document the events in other environments, such as the lounges for interviews and guests, within the same studio. A beauty camera is also employed to deliver aerial shots of the environment.