EMG UK leadership restructure sees Hamish Greig, Sean Mulhern and Paul Francis in promotion frenzy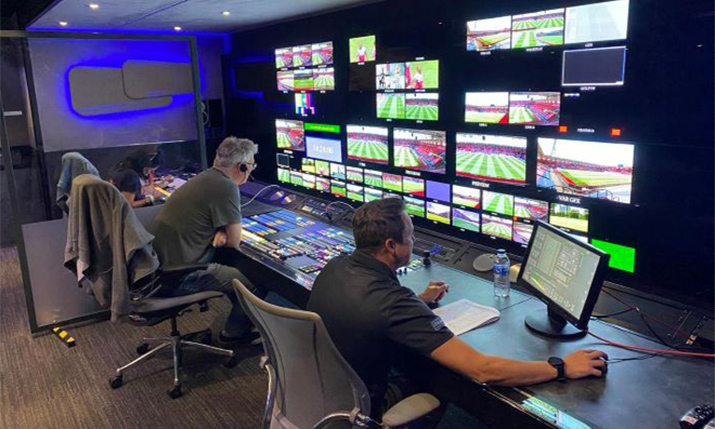 European services provider, EMG has announced a significant restructure of the British side of its business with the promotion of Hamish Greig to deputy CEO of EMG UK, Sean Mulhern to CTO of EMG UK and Paul Francis to director of engineering of EMG UK.
Greig has been the CEO of EMG Group's CTV OB business since 2018, leading the company and being responsible for running CTV and contract renewals with its major clients. Greig joined CTV in 1986 and was promoted to director of engineering in 1996. He was responsible for strategic engineering and budgeting. He also worked closely with client and sales teams to deliver on CTV's objectives. Greig's career began with BBC Scotland in 1973, before spells in Gibraltar with GBC and South Africa for SABC.
Meanwhile Mulhern was previously the director of engineering at EMG Group company Telegenic. He joined the Telegenic division in 1997, developing his passion for technical innovation by designing OB trucks, which secured long term contracts with many major broadcasters. In a 32-year career in broadcasting, Mulhern has worked on major global sporting events, leading the way in HD, 3D and 4K live broadcast technologies. Mulhern has been crucial to the innovation, development, and implementation of remote productions for major UK broadcasters.
Finally, Francis brings over thirty years of industry experience to his new role as director of engineering of EMG UK. He was previously the chief technical officer at CTV OB, overseeing technical excellence and innovation. He started his career in broadcasting with Carlton Television as a technical assistant in the Central Apparatus Room (CAR). With his involvement in multiple edit suites, studios and a single OB truck, experience soon saw him promoted to head post production technician. Soon after the split of studio and OB operations, Francis decided he wanted to continue in OBs and became involved in the early European Tour events in the mid 1990's. He subsequently embarked on planning all of CTV OB's new and refurbished trucks, while also acting as editor, submix operator and workflow designer, finding solutions on the European Tour Golf's worldwide events.
Peter Bates, CEO at EMG UK, said: "Hamish, Sean and Paul have made a huge contribution to the business over the past three decades, and I'm delighted to welcome them into these new roles at EMG UK. Their knowledge of our business and extensive broadcast industry experience will be crucial to helping EMG UK grow and develop, but also in ensuring we retain excellent technical expertise and champion innovation. We wish them every success in their new positions."
Greig said: "I'm excited to work with Peter and the EMG family, to make EMG UK the go to company through these exciting times and deliver our clients' vision with our talented team."
Mulhern added: "With EMG UK, technical innovation never stops. I'm delighted to be able to continue to exercise my passion for developing live broadcast technologies in this new role."
Concluding, Francis said: "I am continually proud to be working in the OB space and I'm always excited to be a part of delivering major sporting and entertainment events. I'm delighted to continue my OB journey in my new role as the Director of Engineering of EMG UK."