EMG UK supports Pride Month with rainbow flag branded OB truck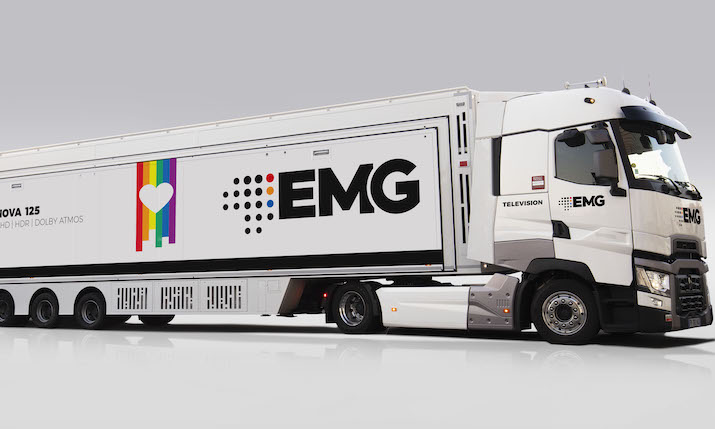 Broadcast service provider EMG UK is celebrating Pride Month by rebranding one of its OB trucks (Nova 125) with a rainbow flag to complete a tour of live sporting events, stopping off at Glastonbury Festival, before finishing at the Pride 50 Show.
On its Pride Month journey across the UK, Nova 125 will support the broadcast of a Matchroom Boxing fight between Ogawa and Cordina on 4 June, the Nations League football matches for IMG between England and Italy and England and Hungary at Molineux Stadium in Wolverhampton, the Gallagher Premiership Rugby Final for ITV Sport on 18 June on at Twickenham, and the iconic Glastonbury Festival between the 22-26 June; before finishing at the Pride 50 Show.
As this is an EMG Group initiative, more trucks in other countries where the company is present, such as the Netherlands, Belgium and Italy, will be following this example.
Wendy Stanborough, head of HR, EMG UK said: "Having a diverse workforce means we embrace different views, experiences and outcomes. Holding the values that we do, EMG UK wanted to make a statement in solidarity with Pride Month. Internally we will be running an awareness campaign focusing on allyship and we're looking forward to Nova 125 taking our message of valuing diversity, inclusion and belonging out to the world."