Entertainment applications set to converge with US and European venue sound development
Live sound in sports stadiums in the US has been driven largely by economics. The need to better leverage the billion-dollar stadiums and arenas had increasingly made them into concert and live event venues pre-COVID, and more recently, virus testing and vaccine distribution centres during the pandemic.
In the UK, however, sound quality seemed driven by tragedy earlier on, most notably by the 1989 Hillsborough disaster in which 96 spectators were fatally crushed during an FA Cup semi-final between Liverpool and Nottingham Forest at Hillsborough Stadium in Sheffield.
"That was a tipping point," recalls Stephen Hogg, director, stadium and sports venues for Germany-based audio systems manufacturer d&b audiotechnik, when speech intelligibility, measured by the Speech Transmission Index (STI) metric, and its importance to life safety became vividly recognised as a necessity for modern sports venue design. But even then the metrics of that criterion were clinical and did not reflect larger, more subjective sonic quality issues.
"It was still about the sporting event," says Hogg, who works from Gloucestershire, UK. "Measurements like STI don't have [sound] quality components attached to them. The bowl still wasn't a place where production quality audio was deemed essential."
"The technical ability of modern sound systems to be able to direct sound where you want it, at the fans, and keep it in the bowl is absolutely critical not just to prevent noise break out but also for clarity and intelligibility"
But the benchmark sound of NFL stadiums, where concert-grade line arrays are now de rigueur, has had its effect on UK stadium design, with the brands that have come to be regarded as "rider ready" – that is, conforming to the requirements of contracts for top tier music touring acts – moving to the fore in designs and installation, for both new and retrofit venue projects.
"The NFL stadium and its extended low-frequency energy has certainly led stadiums here to recognise the noise value of entertainment, along with the need for big video screens," says Hogg, referencing the £1 billion Tottenham Hotspur Stadium, opened in 2019 and designed to accommodate NFL games, and that most agree was an inflection point in sports venue AV in the UK. (In the UK d&b have a system installed at Derby County FC's Pride Park Stadium.)
However, certain aspects of football make sound systems and their designs for its UK and European venues somewhat restricted. First and foremost are size — a typical football pitch is about a third larger than an NFL gridiron — and roof lines, which, Hogg points out, are designed to keep rain off seats and not to support thousands of kilos of line arrays.
"Weight loading along the edge of a corrugated metal roof line isn't designed to support distributed sound systems in most cases," he says. "And there's really no acoustical treatment there to reduce reverberation, which could interfere with meeting STI requirements."
Another consideration for outdoor sound systems in northern Europe in general is weather. As more sophisticated sound systems find their way into open topped stadiums, more emphasis is placed on the IP Code (ingress protection), a two-digit metric that assesses the degree of protection provided by mechanical casings and electrical enclosures against intrusion of grit and moisture. (The broad standard is the IEC 60529; the UK references the European EN 60529 standard.)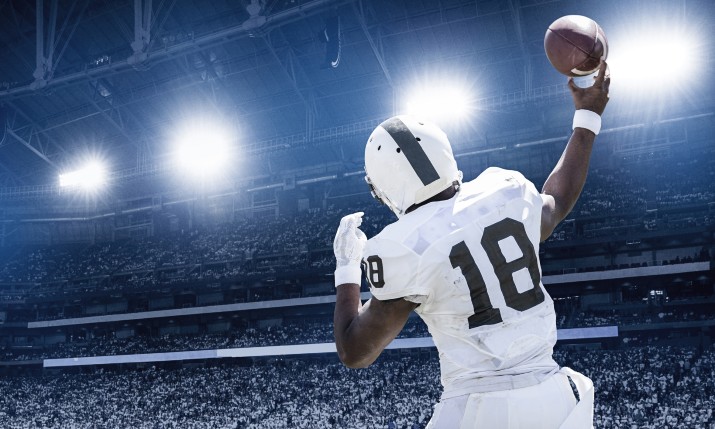 More music requires better sound
Nick Screen, director, business development, sports and transportation at Harman Professional, whose JBL brand was used extensively throughout the Tottenham Hotspur venue as well as venues including Stade de Metz in France and Bloomfield Stadium in Israel, also cites disasters at sports and transportation venues in the UK in the 1980s as turning points for large-scale venue sound, and acknowledges football stadium form factors — particularly roof lines unable to support distributed line arrays and compelling the use of endfiring point-source systems — as potentially hindering the integration of more advanced sound systems. But Screen, who works from Harman's Hemel-Hempstead office just outside London, also highlights a divergence in the ownership models of large sports venues between the US and Europe as part of the reason that the venues have evolved differently in terms of their primary uses.
"Most stadiums in the UK are owned by the teams that use them," he says, rather than the municipalities, counties or states that often partner with corporations to construct large venues in the US, where pressure has been growing to make those venues pay their own way. As a result, UK football stadiums have less impetus to seek alternative revenue streams.
Now, however, that is changing, with UK and European venues starting to actively seek music touring and other entertainment-related revenue streams. For instance, in December Tottenham Hotspur Stadium opened the Dare Skyway, a glass walkway nearly 47 metres above the football pitch.
Dan Palmer, business development manager, sports facilities for US and Canada at France-based L-Acoustics, points to other European football stadiums that have been upgrading their sound, referencing major upgrades at the 75,000-seat Allianz Arena in Munich and the 67,000-seat Olympique de Marseille Orange Velodrome. However, he acknowledges that adapting modern sound systems to the sport's traditional venue designs can be challenging.
"Stadiums are largely open air, which utilise canopy architecture over the audience seating area [as] the primary rigging point for sound," he says, adding that this has led to greater demand for smaller, lighter sound systems that can still achieve higher SPL and full range frequency response for music reproduction.
Palmer cites the Los Angeles Galaxy's Dignity Health Sports Park, where a lightweight KIVA II/SB18 system is distributed in 18 arrays across the two canopies and which meets all structural, weatherisation and performance criteria. Those lighter systems are being actively marketed to European venues.
The Pond remains a gulf between sports venue cultures. Ryan Knox, a senior consultant with Texas-based audio consultancy Idibri, which has designed and specified systems for dozens of US sports venues as well as others in Oman and Macau, says audio and video tend to follow the larger architectural designs of venues, and the tendency in the UK and Europe thus far has been largely towards the traditional, along with its restrictions on flown sound systems.
"Even soccer in the US has been moving more towards bigger sound systems and more entertainment," he says. "It's a matter of the architects pushing the boundaries of the venues themselves. The AV tends to follow that."
Noise issues
Even with music touring essentially shut down due to the pandemic, music is becoming a more integrated component of the sporting experience for football, and that's compelling venues to invest in better, fuller-range sound systems. This is the case even more so with both Wembley and Tottenham Hotspur Stadium slated to be used for more NFL games in the future.
However, that's bringing with it issues that have become common in the US, notably noise escaping the bounds of stadiums and impacting surrounding residential areas.
"Noise pollution is becoming more of a problem in the UK and Europe, as stadiums are closer to city centres, because population density is greater in Europe than in the States," Screen explains. "The technical ability of modern sound systems to be able to direct sound where you want it, at the fans, and keep it in the bowl is absolutely critical not just to prevent noise break out but also for clarity and intelligibility. But it can sometimes be more challenging in Europe because many of the football stadiums are designed almost like amphitheatres, with the fans very close to the pitch. This can present challenges for the sound system designer."
It may also spur the building of more indoor venues that are designed to accommodate a wider range of sports and entertainment offerings, and which can accommodate more sophisticated sound systems by virtue of their more robust rigging infrastructure. One such project, the Co-op Live Arena approved last September by Manchester City Council that would put a new £350 million, 23,500 capacity arena on the same campus as the Premier League's Manchester City FC, is intended to draw a wide range of sporting events that could include basketball and hockey; sports that, like the NFL, are seeking global expansion.
(The new venue's backers, the US-based Oak View Group, also own arena and stadium-oriented trade publications Pollstar and Venues Today, which focus on live music and touring, and venue technology, respectively, suggesting that the forthcoming venue's audio and video systems will likely not be wanting.)
In fact, some attribute all this to the 'NFL-isation' of football and rugby, with a greater emphasis on games as entertainment and their stadiums as entertainment destinations. But the convergence of sports and entertainment appears inexorable, and venue sound systems will be on the front lines of that phenomenon.
"Fans expect an elevated experience when they attend sports now," says Screen. "Music is now a big part of that, and the sound has to match their expectations."