ES Broadcast Hire selects Grass Valley LDX cameras to boost its 4K fleet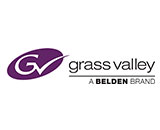 Grass Valley, a Belden Brand, has announced that broadcast equipment hire company ES Broadcast Hire has selected a significant number of Grass Valley LDX 86N Series cameras and LDX 82 Series cameras to increase its 4K and HD hire fleet. All cameras are enabled with Grass Valley's unrivalled native HDR acquisition.
ES Broadcast Hire specialises in broadcast equipment hire to the 4K and HD live production market, offering one of the largest 4K hire fleets on the continent. And with offices in London, Manchester, Madrid and Munich, the company is perfectly placed to support the broadcast industry whatever the location.
With a large range of Grass Valley's LDX Series cameras as well as LDK 8000 and LDK 8300 cameras, ES Broadcast Hire is able to offer the best solution for any type of production. The cameras will be used for the most challenging productions all over Europe in a wide variety of deployments for sports and music events.
Citing the rapid growth of the TV broadcast market's migration to 4K/UHD formats as a reason behind the acquisition of the LDX Series cameras, ES Broadcast Hire managing director Warren Taggart explained: "We needed to increase our hire fleet and selected the camera series from Grass Valley because they provide the most technologically advanced quality for multiple formats with a flexible eLicense-based upgrade path to 4K/UHD and HDR."
The LDX 86N Series camera takes ES Broadcast Hire's Grass Valley camera fleet to the next level with traditional HD/3G acquisition, offering a great viewer experience for all its live productions. The LDX 86N WorldCam cameras can be upgraded directly to native 4K UHD as well as 3X 1080i/720p or 6X 1080i/720p or 3X 1080p, on a daily, weekly or permanent basis using Grass Valley's unique eLicensing system. The camera's HDR functionality can similarly be activated with a weekly or perpetual eLicense.