ESL Gaming comes home to the Cologne Cathedral of Counter-Strike
Last weekend saw the biggest ever Counter-Strike: Global Offensive eSports event staged by ESL Gaming in its hometown. ESL One Cologne 2019 attracted sold-out crowds to the LANXESS arena 5-7 July, with $300,000 in prize money on offer to 16 of the world's best CS:GO teams and fans from more than 60 countries making the pilgrimage.
Quarter-finals were held on Friday, with two semi-finals on Saturday and the grand final last Sunday. The first ESL flagship 'Cathedral of Counter-Strike' event was held in 2015 and each year it has grown bigger to the point where the 2019 CS:GO was practically a 24:7 eSports festival with a large broadcast OB production to match, bringing the game to a range of social media platforms plus linear TV viewers around the world.
SVG Europe talked to ESL Gaming's director & executive producer broadcast eSports services, Simon Eicher, and TV tech & engineering manager Fabian Leimbach, to examine the increasing complexity of live eSports coverage and the relationships formed with vendors and providers like NEP and Make.TV in order to deliver this complexity from Cologne last weekend.
"We're seeing more and more variety in the evolution of eSports," said Eicher. "A couple of years ago if we developed a new feature we would use it every time: now, depending on a segment, we would have three to five different options for storytelling we can pull out of our pockets. We have EVS IP Director and Multireview workflow with six XT Max servers on-site.
"It's not just a linear broadcast. It doesn't start and end at some point: it's really like a festival on-site and on-line, more or less 24/7 for the weekend!"
"We're working with Spidercam and have a regular camera here. We also have good support from Riedel in terms of signal flow and communication on-site – which is an area where we are heavily expanding. The LANXESS arena has recently had a technical overhaul where they have now integrated more Riedel gear into the venue. That is very helpful for us, providing better existing infrastructure," said Eicher.
"We work with NEP on the broadcast," said Leimbach. "The master control room is in the NEP truck and we're also working with EVS, not just for replays but we're also using the EVS Dyvi vision mixer in our in-game control room.
"The in-game control room is separated and then we share almost all the sources between the truck and the in-game control room. So you could look at the truck as being the host broadcast production and the in-game portion is all the hard content with a lot of features from experts at our end – so it's a pretty good partnership.
"Then we add EVS replays and super slow motion channels to have super smooth and cool replays. And on top we have all the metadata infrastructure to clip everything, not just for the broadcast archive but also to access social media interaction.
"This is a crucial and mandatory part for us, because we are streamers. We have 15,000 people attending on-site but will have a lot of viewership throughout all the channels across the world. We need to be very interactive on all the social media channels, so, therefore, it is great to not just archive and store everything from clips for the broadcast but then we also like to share some more insight through social media," said Leimbach.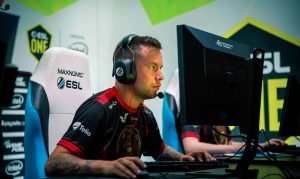 "For example in the broadcast we're using POV cameras in front of the players, but we also have other cameras showing the whole team on both sides of the stage and we are clipping constantly during the games themselves and pushing them out live to social media channels – and also embedding the team comm conversations underneath that so you can watch the stream and double-check all the social media channels in the meantime. If you can follow everything then you're going to have way more insight.
"This allows us to capture and give out even more content, which is great for the viewership as it's not just a linear broadcast," said Leimbach. "It doesn't start and end at some point: it's really like a festival on-site and on-line, more or less 24/7 for the weekend!"
SVG Europe: Which of course is very hard work and long hours for everyone involved in the production?
"That's the fun part, right? That's why we are all working for ESL! We love the spirit of it, and if we wanted to work for a linear broadcaster we could do it, but this presents all these challenges for the quality of the PGM output we are sending," said Leimbach.
"We do have a lot of linear takers already, which is also great as we then have more possibilities to send out our PGM to linear takers and online platforms — and even to offer different partners the opportunity to localise the content for their own shows with language feeds.
"This year's production is more complex than last year. We've added a lot of creative content through a 3 PM stack on Dyvi, and we do need all the render power as we have way more signals with more XT servers.
"We're using every single source we can get out of the Dyvi, and a lot of split-streams because eSports and especially Counter-Strike has a very high pace when it comes to production. It's quite easy to miss some action, and our biggest aim is that you don't miss any action," said Leimbach.
"We have reached a certain position on overall content and have to focus on constantly adding more content to make our production even more interesting. We've added a lot more automation for the on-site viewership, in terms of lighting and sound, and also some more automation from out of the game for the live broadcast and the streams — with way more split-screens in terms of composition in order to show more simultaneous information to the viewer."