ESPN coverage of FA Cup Final an All Day, All HD affair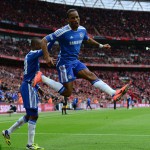 The FA Cup Final was at one time a big day for British sports broadcasters but in recent years it has been overshadowed by coverage of the Premier League and Champions League. ESPN looked to restore the event to its former position and devoted a whole day's airtime to this year's clash between Chelsea and Liverpool on Saturday 5 May.
Jeroen Oerlemans, ESPN's vice president of TV channels in Europe, comments that the aim was to bring back the traditional day-long broadcast of the FA Cup Final and give full build-up to the climax, as well as the central coverage.
The game was transmitted live in both HD and 3D using facilities provided by OB contractor SIS LIVE, which also supplied trucks and equipment to host broadcaster ITV Sport. Two vehicles, OB1 and OB5, were on site at Wembley to allow ESPN to tailor its presentation coverage in addition to what was coming from the main match feeds.
The production relied on 37 cameras, with one mounted on a blimp and 3D feeds coming from an eight camera set-up. Audio was delivered in 5.1 Surround Sound for both the 3D and HD transmissions.
The day started with the breakfast show and moved on with a feature about giant killers, the lower or non-league teams that knocked big name clubs out of the tournament, and then FA Cup Brunch. At noon Talking Tactics looked at what strategies the teams might employ, with a virtual touch screen used to present the different approaches.
Kick-off was at 5.15pm, with full commentary and the ESPN Arena, based on Vizrt Trio graphics to the broadcaster's design, allowing pundits to analyse the action, with players appearing on screen as avatars.
The decision to stage the game, which Chelsea won 2-1, later in the day attracted criticism from some fans and journalists, who say it was purely for the benefit of the TV channels. But Oerlemans argues the timing makes more sense: "It is better from a viewing point of view because people can do what they have to do during the rest of day and then watch the match later in the afternoon."