ESPN serving for the match with 140 + 800 hours of live coverage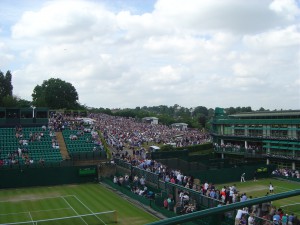 Half-way through this year's Wimbledon championships, ESPN technical manager Chris Strong pauses to reflect on a relentless two-week schedule that sees the broadcaster deliver complete and live daily telecasts totalling 140 hours – not to mention 800 for ESPN3's multi-screen presentation of all TV courts.
ESPN's Wimbledon offer to viewers is considerable. All action shown on ESPN and ESPN2 is also available through WatchESPN online at WatchESPN.com, on smartphones and tablets via the WatchESPN app, and through ESPN on Xbox LIVE to Gold members. Having debuted 'cross court coverage' in 2012, ESPN HD and ESPN2 HD were again live for three days at the start of the second week. In addition – and mere weeks after the network revealed that it is to close its US 3D service by year's end – ESPN 3D is televising from today (3 July) five days of action live from Centre Court.
Along with extensive coverage for mobile, on-demand and web services, ESPN is also bringing multi-screen coverage of five matches – in addition to the match airing on ESPN2 or ESPN – to ESPN Interactive TV.
ESPN's set-up for delivering all of the above sprawls two floors at the AELTC. Now in his fourth Wimbledon year – and 15th Grand Slam – Strong emphasises that consistency is the watchword. "We have tried to keep the workflows as consistent as possible between the different Grand Slams, including Wimbledon," he says.
The vast majority of the equipment being used is supplied by NEP Visions, but ESPN does bring its own in-house consignment of Orad graphics solutions: specifically, Orad MVP, which provides visual tools for creating content to visualise critical plays and the flow of the game; Orad TD Control, which allows the technical director to call up different box compositions, assign different video sources to each box, and populate it with the correlating graphics and data manually or automatically; and Orad ADVision, which allows real-time insertion of full motion virtual advertisements.
EVS solutions dominate in the ingest, playout and logging areas, with a complement that includes 18 XT[2]/XT[3] servers and no fewer than 31 IP Director systems. In addition to 21 of its own cameras, ESPN can access approximately 60 feeds (a mix of clean and dirty) from the BBC. In return, it also shares feeds with the Beeb ("a lot of content sharing goes on," confirms Strong).
Calrec Artemis consoles and PMC speakers feature prominently in audio world, with Strong revealing that the 2013 tournament is the first that it is delivering in 5.1 as well as stereo. "We had made some major changes to the set-up here a few years back, and 5.1 was one of the other things that we got 'round to after that," he says.
Editing is courtesy of three "full-scale, final" Avid suites, with pre-editing and other duties undertaken in four 'light' suites featuring EVS IP Director and Avid Media Composer (6.5).
Nearing the end of SVG Europe's tour, Strong highlights the "fantastic ongoing collaboration" with the AELTC, the BBC and ITV. "It is a constant dialogue and a very fruitful one," he says. Meanwhile, ESPN's own style for delivering Wimbledon continues to evolve, with the two principal studio sets now incorporating a more "informal, at the club" feeling that skilfully reflects the enduring aesthetics of the venue itself.