Esports Focus 2020: Register now to attend live online event on 11 June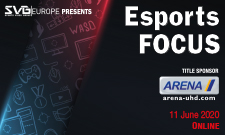 SVG Europe is very pleased to present a 70-minute live virtual event, 'Esports Focus – Building the Business Case for Competitive Video Gaming on TV and OTT', at 3:30pm UK/4:30pm Europe on Thursday 11 June 2020. Esports Focus is sponsored by Arena Television.
Register now to attend Esports Focus 2020.
Broadcasters around the world already air coverage of major esports tournaments on a regular basis, on linear channels, online, on social media and OTT. But to what end?
The coronavirus has shown that there is an appetite for esports and virtual sports content, and bumped it up the live sports pecking order. But is there a business model? Is there more to esports than simply replacing 'real' sport in a time of crisis?
How do public service broadcasters get a piece of the action? How does esports fit with the pay-TV subscription model? And will esports help to provide broadcasters with a route to the most important target group of the next decade: the millennials?
These questions and more will be answered during SVG Europe's Esports Focus, sponsored by Arena Television, as we look to build a business case for live coverage of competitive video gaming on TV and OTT.
The list of registrants includes broadcasters, OTTs, leagues, federations, clubs, OB providers and more. Already signed up to attend include representatives from:
Apnea Films, BBC, BT Media & Broadcast, Cologne Broadcasting Centre, DAZN, Discovery Communications, Dome Productions, Ekstraklasa Live Park, English Football League, Evoke Films, Eye Can Media, Faergen Sports, Gaming International, Gravity Media, HBS, NEP Group, PerspecTV, rt1.tv production, RTE, Sky UK, TVC Deportes, WarnerMedia CNN Singapore, WSC Sports and more.
Confirmed speakers include:
Victoria Cotton, BBC Sport, Editor Live Streaming
Adam Klinck, Arena Television, General Engineering Manager
Sid Kohli, SVG Europe, Presenter
Kim Martin Lachmann, Deloitte, Senior Manager Sport Business Group
Amanda Lawson, Gfinity, Head of Content
Peter Love, Arena Television, Director of Operations
Alessandro Reitano, Sky Deutschland, Director Sports Production
Fergal Ringrose, SVG Europe, Editorial Director
Julian Tan, Formula 1, Head of Digital Initiatives and eSports
Esports Focus 2020 will be streamed live and will include various opportunities to ask and answer questions of speakers. Access to Esports Focus 2020 follows the same principle as our regular events, which are open to SVG Europe members and sponsors only.