Euro 2020: UEFA's Maurice Tollenaar reflects on the host broadcast operation for "most challenging" Euros ever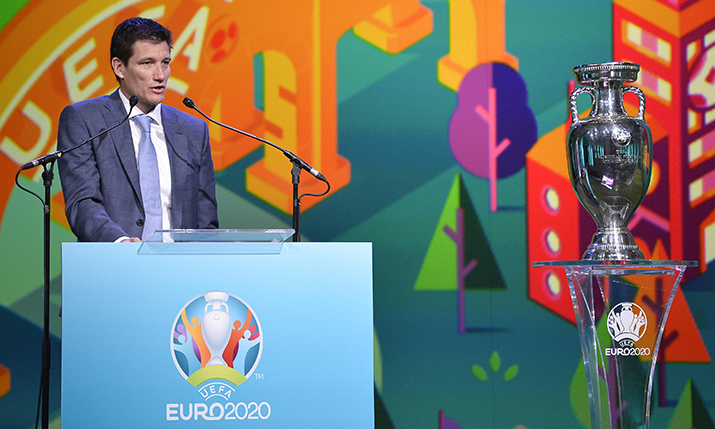 In an exclusive interview ahead of the Euro 2020 final, UEFA chief of media rights and production services and deputy marketing director Maurice Tollenaar (pictured) talks to SVG Europe about the strengths and challenges of the host broadcast operation for what was a "very difficult tournament to prepare and deliver."
Overall, how do you think the world feed coverage of Euro 2020 has gone throughout the tournament? Have you achieved everything you set out to achieve?
We have received overwhelmingly positive feedback from our broadcast partners, which confirms that the tournament has gone well so far. However, it's not over yet – and we still have the most important match to deliver. Viewing figures for the tournament have also been excellent, and we've achieved a number of record audiences already. England vs Denmark [on Wednesday 7 July] saw the fourth highest TV audience in the UK since 2001 – and the highest TV audience since England's 2018 FIFA World Cup semi-final against Croatia – whilst in Denmark the match share was 94% of the market.
We saw similar stats from the other semi-final, in Italy the match was the most-watched free-to-air broadcast since the UEFA Euro 2012 Final – again between Spain and Italy – whilst in Spain, it was the highest-viewed TV programme since the 2014 FIFA World Cup.
"It's certainly the most challenging UEFA Euro I have ever worked on and it's hard to imagine a more complicated one."
This tournament is unique in the sense that it has been staged across the continent and held under extremely challenging circumstances given the global COVID-19 pandemic. Our main objective was to nonetheless deliver our originally intended technical and production plan to our broadcast partners. This has largely been achieved. Obviously, there have been numerous restrictions that have mainly impacted our ability to provide our usual range of unilateral services, though our broadcast partners have been very supportive and understanding in this regard.
Generally, they are very happy with our coverage as a whole and with the unilateral opportunities, they've been able to exploit at the venues, or remotely, in order to tailor their coverage to their viewers at home.

Euro 2020 saw the introduction of HDR, VAR, and various other content and technical innovations that weren't present at Euro 2016. Is there anything that you are particularly pleased about or proud of?
UEFA continues to innovate each season – where it makes sense and meets our broadcaster expectations to do so. At UEFA Euro 2020 we've been able to offer a comprehensive parallel multi-format production, with matches available in 1080p SDR, 1080p HDR and UHD-HDR, with accompanying Dolby 5.1 surround sound and Dolby Immersive Audio.
We have more than 20 broadcast partners taking the UHD signal, 11 broadcast partners taking the UHD signal via the International Broadcast Centre (IBC), which is situated just outside Amsterdam and another 10 taking the signal over satellite. Our host city beauty shot feed, showing live coverage of a landmark location for each of the 11 host cities has also been well received. UEFA host broadcast has also delivered a technical VAR solution at all matches of the tournament, on behalf of our colleagues in Football Operations, which has worked smoothly.
"To date, we've created and published over 17,800 videos via our UEFA HIVE content distribution platform."
Another innovation we've been please to deliver is our fully equipped dedicated upgrade service – allowing subscribing broadcaster partners to have a full – up to three camera – unilateral production from designated positions at the venue, with all equipment and distribution managed by UEFA.
We've also placed greater emphasis on multi-platform content with our additional programming delivery, enabling our broadcast partners to effectively showcase the UEFA Euro to their increasingly digital audiences. To date, we've created and published over 17,800 videos via our UEFA HIVE content distribution platform
With hindsight, or without the impact of COVID, is there anything you would have liked to have done differently on the world feed? Or anything that you think would have made it better – or that you would like to introduce for Germany in 2024?
Obviously, with the impact of COVID-19 and the accompanying travel restrictions, there has been less opportunity for visiting broadcasters to deliver their own productions on venue. Additional restrictions have also led to broadcasters reducing their space at the IBC. Whilst, as mentioned earlier, we've been able to offer them a number of remote opportunities to meet their demands, we're very much looking forward to seeing broadcasters back in the stadiums and at the IBC in full force for UEFA Euro 2024.
As for UEFA Euro 2024 itself, it's too soon to start discussing any details, but as always we'll continue to innovate and adapt our plans to meet broadcaster demand.
Looking back, what was your biggest challenge?
Without a doubt, delivering a tournament during the COVID-19 pandemic – including navigating travel restrictions, quarantine, testing for our teams and crews and the demands upon our host broadcast staffing plan that these requirements place – has been the biggest challenge. One good example is that we had initially planned for seven production teams: five moving between venues and two permanent teams in Glasgow and Baku.
However, due to COVID-19 we had to rethink our plans, eventually ending up with a permanent team in every venue – and thereby adding an additional 500 staff to our overall staffing plan, bringing it to just over 3,000 staff in total.
One other key challenge to mention is the late changes to the tournament venues. Our crews were just about to head off to the – then – 12 venues, when UEFA took the decision to move the Dublin matches to Saint Petersburg and London, and for Seville to replace Bilbao. Thankfully, we were able to move many of the staff to other venues, but this required a not-inconsiderable amount of work and planning by our team in order to get all our crews into each country, through any quarantine and on-venue ready for the start of the competition.
The Euro 2020 IBC set-up saw some elements (editorial content services, quality control and broadcaster servicing teams etc) moved to remote hubs in London and Nyon. Did this, and your other COVID precautions, work as you hoped they would? And is this hybrid IBC model something that could be used again?
The host broadcast team have had to adapt throughout all stages of this unique competition, with one such adaptation being the decision to protect the IBC – which is at the heart of our technical plan – by minimising the number of personnel and teams at the facility located in the Expo Haarlemmermeer, just outside of Amsterdam, to a core engineering team.
Everyone working at the IBC is required to follow strict COVID-19 restrictions, including regular testing and following a zoning concept, in order to protect everyone working at the site and to ensure the switching and distribution of our match signals to our global audience. As part of this decision, UEFA also moved certain core IBC services – including our editorial content services, quality control and broadcaster servicing teams – to our London hub, hosted by IMG at their facilities in Stockley Park, and to our UEFA hub in Nyon, Switzerland.
With our management team based in three locations – as well as being represented at the 11 venues – this provides its own challenges, but there have been many synergies with a hybrid model, and it's certainly something we'll consider for future tournaments.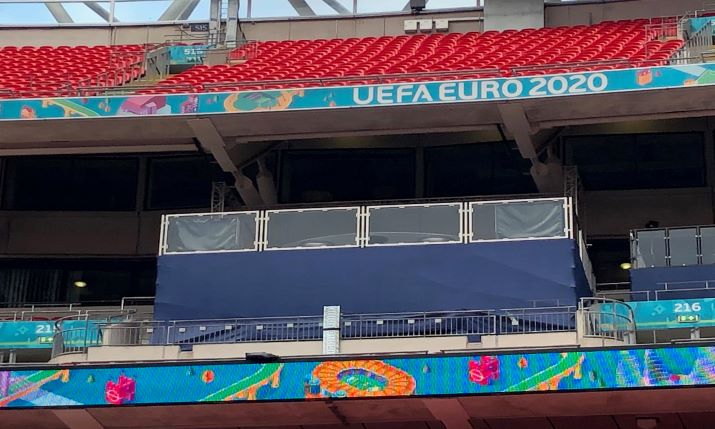 You offered a comprehensive package of both content and technical services for rights-holding broadcasters. What has the feedback been from those broadcasters? Is there anything that has been particularly popular or successful that you can take forward into other competitions or tournaments?
We are, of course, in touch with all of our rights-holding broadcast partners across the tournament – but we will liaise with them following the full delivery of the competition in order to collect their degree of satisfaction on UEFA's technical and content services.
What can be said already today, is that broadcast partners have made wide use of UEFA's extended range of fully-equipped services, i.e. services that enable broadcast partners to conduct unilateral activities in the venues without having to bring their own technical equipment. We have had to increase our service level in this respect, in order to compensate the impacts of the applicable COVID-19 venue mitigation measures, as well as the vast travel requirements due to UEFA Euro 2020 venues being spread all over Europe.
"The team have worked tirelessly to deliver this tournament and they have done an outstanding job. Every individual has stood up to the task and I think they can be extremely proud of themselves."
Also, the comprehensive non-live coverage produced by our editorial staff and 59 ENG crews has been very well received with regard to both volume and quality, especially since many broadcast partners have been prevented from sending their own crews to the host cities due to the applicable travel restrictions.
A general tendency for the tournament has been that some broadcast partners have covered matches by using remote services, such as the newly introduced radio international sound (RIS) streaming service. This service enables radio broadcasters to conduct live commentary from their home premises, a service we'll very likely take forward to UEFA Euro 2024.
Doing a multi-country tournament in normal times would have been a big challenge. Doing it during a global pandemic, made it doubly so. Is this the most challenging UEFA Euros tournament ever? And how proud are you of the team and what it has achieved?
It's certainly the most challenging UEFA Euro I have ever worked on and it's hard to imagine a more complicated one.
Whilst everyone is already looking forward to the final at Wembley on Sunday, we're also looking forward to concluding what has been a very difficult tournament to prepare and deliver – though the start of the new club competitions cycle, including the launch of the UEFA Europa Conference League and the recently centralised UEFA Women's Champions League, is already upon us!
The team have worked tirelessly to deliver this tournament and they have done an outstanding job. Every individual has stood up to the task and I think they can be extremely proud of themselves. I am, above all, thankful to them, grateful for all they have achieved and looking forward to taking our production and technical plans forward as we begin the planning phase for UEFA Euro 2024.
UEFA Euro 2020 concludes on Sunday 11 July with the final at Wembley between Italy and England.
---
Read more about the host broadcast set-up for Euro 2020: https://www.svgeurope.org/blog/headlines/uefa-euro-2020-the-host-broadcast-facts-and-figures-for-the-tv-coverage-of-europes-biggest-football-show/
---