Euro Media Group reflects on its World Cup presence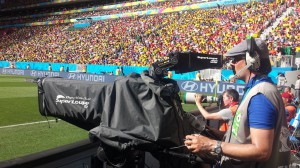 Last Sunday (July 13) teams from Euro Media Group delivered coverage of the FIFA World Cup Final from the iconic Maracana stadium in Brazil. During the tournament more than 120 crew from Euro Media Group companies supplied the television coverage of matches from Natal, Recife and Rio de Janeiro, as well as aerial coverage of all 12 host cities.
In total, crew from CTV, Euro Media France, United and Videohouse deployed more than 60 Sony cameras for the production of the international signal for 16 matches, including a quarter-final and the final. DVS supplied super slow motion shots with eight engineers, encompassing more than 36 games and deploying two Superloupe for each match for HBS.
ACS (Aerial Camera System) provided all aerial coverage of the tournament for the host broadcasters. The Aerial Unit's team of 23 crew and 28 pilots completed over 500 flying hours throughout the World Cup. United, the Group's Dutch subsidiary, also produced graphics for various channels such as NOS, VRT and RTBF.
Thierry Drilhon, CEO of Euro Media Group, commented: "After the Olympic Games in Sochi and while the Tour de France is in full swing, the coverage of the World Cup in Brazil once again demonstrates the influence of the Group on such an important international sporting event. Like football, Euro Media Group values the team where the expertise of each is placed at the service of all; the synergy of our group continues to be a unique asset in Europe."