Euro Media Group Italy companies put disaster recovery plans in place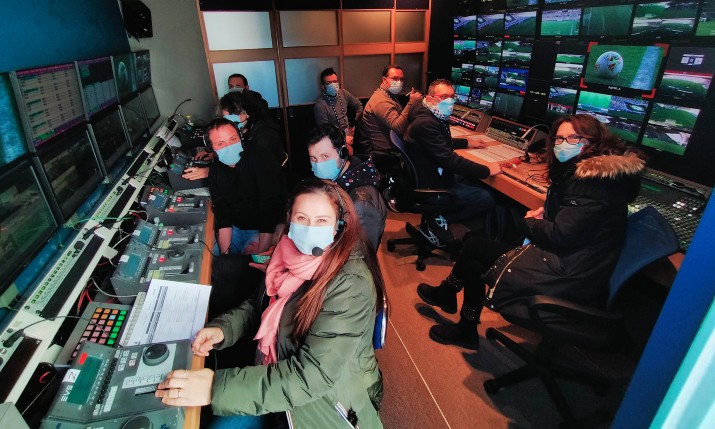 The three Italian associates of the pan-European Euro Media Group – 3Zero2, Global Production and Netco Sports – have adapted quickly to the subject of disaster recovery. To overcome the current emergency situation due to the coronavirus outbreak they have implemented rigorous security, technological and logistical/organisational measures in order to guarantee continuity of service.
"We are certainly in the presence of a serious emergency but it has not caught us unprepared," said Stefano Bianco, CEO of Global Production. "The current situation is that shooting of all Italian football matches is postponed – not cancelled – until 3 April.
"We have started an effective collaboration with the City of Turin and the health bodies of Piedmont. We also shot and produced some videos for hygiene and health prevention, mini-documentaries that teach some effective hygiene rules against contagion, broadcast on various channels, on national, private and social TV channels," he said.
Davide Furlan, co-CEO of Global Production said: "I would like to underline that for several weeks we have guaranteed the maximum safety of our personnel operating on mobile vehicles, with rigorous hygiene measures. Despite the concern, [sport] TV production in Italy has suffered a temporary stop, which is necessary for prevention of the further spread of the virus.
"But we agree with the main Italian broadcasters who speak of suspension and not cancellation of activities. In fact, all projects and productions are only postponed, and certainly not cancelled.
"In practice, our official position is of realism and optimism: the situation is difficult and we are forced to stop for a while, but we will re-start with enthusiasm as soon as possible."
Claudio Cavallotti, general sales manager of Netco Sports said: "Even before the guidelines from the Italian Ministry of Health sanctioned the precautionary measures of isolation, we had already started to implement these procedures, including smart working and teleworking.
"The two operational phases involved the application of extreme hygiene and safety measures for all employees, interpersonal distances, masks, sanitised supplies, hand washes and constant checks with thermometers.
"Initially we managed part of the work remotely and part in smart working with minimum controls in the company and intelligent shifts of reduced staff. Then, two weeks ago, we physically closed the headquarters in via De Ruta and all operations continue with teleworking and remote production.
"The slowdown is due to the temporary cancellations of football matches. So, at the moment, all the production activities of Netco Sports are continuing without significant decreases in our operations."
Mario Rasini, who at the start of March returned to the role of CEO of 3ZeroTV after an 18-month break, said: "I am happy to be back in the saddle, albeit at a rather delicate moment, in which Italy is in great pain due to Covid-19. I thank everyone – the internal and external staff of 3Zero2Tv, Netco Sports and Global Production – who are doing a great job to guarantee, as always, the highest quality and safety levels."