Euro Media Group unveils modular IP remote production technology
diPloy platform is 4K and UHD HDR enabled for largest live sporting events
At an IBC Showcase virtual session, Euro Media Group (EMG) took the wraps off diPloy, a modular standardised IP platform that was "due to be shown to the world in all its glory at a massive sporting event in Japan that did not happen".
EMG director of operations Timo Koch said the diPloy architecture, in development since 2017 (when known as OBjective 2020), is currently being implemented "in a very large OB truck we are putting on the road at the end of this month". The IP technology is also on board two new EMG golf trucks that are now on the road around Europe.
Koch was speaking at an IBC Showcase session this week (9 September) hosted by Imagine Communications and titled 'Scoring with IP: making remote production infrastructure play for top-flight live sports.' He was joined by EMG senior project engineer Christoph Hadyk; Imagine Communications' networking & infrastructure CTO John Mailhot; and Imagine's regional PLM networking Jochen Kuhnen. The session was moderated by Glodina Connan-Lostanlen, chief sales officer at Imagine Communications.
IP may now seem the logical – indeed the only – way to go when building infrastructure for remote broadcast production. But back in September 2017, when EMG unveiled the OBjective 2020 concept (at the SVG Europe Sport Production Summit in Amsterdam ahead of IBC2017), it was far from clear how everything would work together – especially as some of the nascent standards on which the platform would be based were not established, and the equipment pieces from various manufacturers were not interoperable.
On top of that, EMG's approach in building an IP infrastructure for fixed facilities, OB trucks or flyaways from preconfigured modules was and is highly innovative, if not unique. The journey through IP protocols, networking topologies and equipment interoperability formed much of the early discussion at this diPloy rollout virtual discussion.
"Back in 2017 we launched the concept of developing a fully flexible, scalable and modular production
environment, to be rolled out as a technological platform across the whole group – whether trucks, flyaways or remote operations centres and whether on-site or remote production," said Koch. "We wanted to build a technology suitable for all applications and all formats.
"We designed and integrated the whole system in-house, with a team led by Christoph, from drawings through testing and up to commissioning.
"There are many good reasons to go IP," he said. "First of all it's the key factor in the move to remote productions. When you look at very large productions in UHD HDR you run very quickly into the limited bandwidth of SDI.
"From where we stand, IP is the only way to go. We wanted to take it one step further by designing one integrated network that combines video, audio, monitoring, intercom and data, whereby we pack all the different OB parts into different modules, each with a different functionality.
"Scalability was one of our key factors, and still is. The system was designed to be fully elastic to fit any production, from a four HD camera job to a full-sized world-class sporting event, with close to 100 UHD cameras. The ultimate idea behind DiPloy is that we can always give the customer a tailored solution and we deliver a benefit for both sides."
Interconnecting equipment with the expectation it will work together
John Mailhot commented: "It's really good to hear, after all the years we've been working on these standards with SMPTE and AMWA and the Video Services Forum, that the business benefits that drove our work are being realised by customers. The whole purpose of IP was to consolidate all the signals onto a common infrastructure to make it easier to build facilities, especially dynamic facilities that are tuned up a little differently for each event.
"The SMPTE 2110 standards were published three years ago. There are a series of minor updates that are [still] processing through, but that is pretty normal. At this point the industry has had a number of interoperability events where 40, 50, 60 vendors come through and test that their equipment works with others. And then recently the EBU has taken leadership, running the JT-NM test programme. These test results are made public.
"So we've really come a long way in having standards and checking that equipment really comports to them. The results you'll see in diPloy and others is that you can interconnect different equipment with the expectation that it's going to work well together – and in fact, that that expectation is achieved in projects."
Christoph Hadyk said the diPloy system is based on small blocks of functionality called modules. "Our modules are in physical racks with different sizes – 9, 14, 30 RU racks — that fit on top of each other like little Lego blocks and can be put together anywhere, whether a data centre or an OB truck, depending on the requirements of the job.
"We have identified different types of modules carrying different sorts of equipment to fulfil functionality, which we can add to scale during a job. Different modules handle incoming and outgoing signals, be it SDI legacy, IP streams, cameras, graphics or signal handover.
"We have modules containing equipment for instance to add vision mixers, audio mixers, replays and processing power as we need it for signal conversions for Dolby E or for multiviewing. We can add workspace blocks, to add an EVS operator or an entire production gallery.
"The core of our technology is the fully converged diPloy network. It was very important for us to have one network into which everything connects, that carries all required parts of our broadcast environment. It carries all critical data, such as SMPTE 2110 streams, SMPTE 2022, PTP for synchronisation and even DANTE streams, at the same time combining with control data necessary for the broadcast controller. We carry RS-422 data over it and any other form of device control. It can also include 'best effort' traffic, which could be file transfer or internet functionality.
"Any of our modules contains network elements from this diPloy network. It's built on Arista and Netgear and is fully redundant. Every module contains a piece of that network, depending on the bandwidth required to connect that module – it could be an Arista or Netgear switch, or a combination of both," said Hadyk.
"A key factor is that it's a full meshed topology network. We can interconnect all the modules we need during the scaling process, either to each other or via a central module and we can make the system grow like that. And we can place the modules anywhere we want, interconnecting with each other.
"On top of that network we have a powerful control engine. It's hosting the two main applications controlling the whole network. On the one hand we have southbound control, a grid application controlled by SDNsquare which is defining our network.
"It configures all the ports and the uplinks, and also all the end devices, with a very fast set-up time. The grid software also takes care of all our multicast routing, handling redundancies and ensures all quality of service for the entire network.
"On top of that, our northbound control is EVS Cerebrum, which is a well-known broadcast controller. It was important for us to choose a well-established broadcast controller to give the user all the necessary GUIs and at the same time maintain the traditional tally, UMD and parameter control, plus end devices to join all these streams," he said.
Bridging SDI to 2110 with UHD and HDR
Central to the design of the new EMG platform is the Selenio Network Processor (SNP) from Imagine Communications. Each SNP provides four independent processing blocks that can be software-reconfigured in each deployment, housed in a 1RU chassis with a consolidated 100GBE network interface.
In some diPloy modules, SNP works as a gateway to bridge EMG's legacy SDI equipment to the SMPTE ST 2110 network on which diPloy depends. In other modules it works as a processor, adjusting visual parameters of camera signals or performing HDR conversions.
The SNP also provides up/down/cross conversion between HD and Ultra HD in HLG, PQ, and S-Log3 through its own colour processing pipeline with dozens of user adjustments. In productions that require matching to a specific LUT, the SNP will allow customer-uploaded LUTs, including dynamic adjustments in tandem with the LUT and dynamic contextual switching between the LUT and the pipeline, choosing the appropriate conversion on-the-fly.
"When we started the project it was so innovative that many standards at that time were simply not ready" – Christoph Hadyk
Commenting on the collaborative technology journey with Imagine Communications, Koch said "When we launched and went through our RFP process at the time, we realised we were not going to find the product that would tick all the boxes we were looking for. However, we think we found in Imagine a partner that was first of all interested in our project, by the ambition of it: they convinced us they were willing and also able to work with us on developing all these functionalities.
"So I can only confirm that from the Euro Media Group side it was a very interesting and very efficient cooperation, where I think I may say together we have developed some very interesting functionalities."
"When we started the project it was so innovative that many standards at that time were simply not ready – or different manufacturers had not yet implemented them," added Hadyk. "Specifically, looking at NMOS IS 04 and IS 05, it's one of the key elements we're using to control our equipment – these were standards that were still being defined.
"So to get everything to a functional state we had to do a lot of interoperability tests and also join the manufacturers with their development processes. And we had to adapt our way of controlling equipment. The key here was to work together, and get the features we needed developed and put into their products."
Wrapping up the session, Connan-Lostanlen asked Timo Koch to comment on the rollout of diPloy and some of the next steps involved for Euro Media Group.
"Well we were supposed to show it to the world in its full glory during a massive sporting event in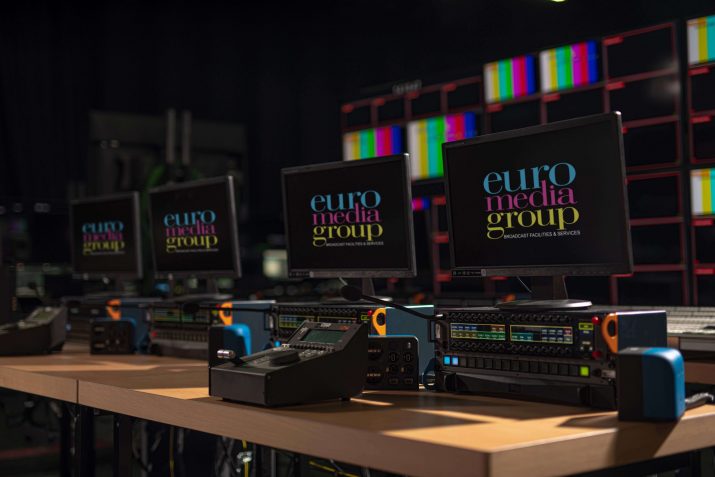 Japan that did not happen," he said. "However we have integrated diPloy at our remote operations centre in the Netherlands, where it is going live on a daily basis on two different shows since the start of the summer.
"We will also integrate it in a very large OB truck we are putting on the road at the end of this month. We are upgrading our other remote operations centres in France, UK, Italy and Belgium with the same technology. And two of our brand new golf trucks are also on the road now, equipped with this technology.
"On the operator side we have tried, and I think succeeded, not to have a huge difference between then and now. As Christoph has explained, we tried to keep a lot of the same GUIs as before. On an engineering level, of course, it is a completely different ball game.
"We are training part of our staff in IT and we are clearly adding some specific IT expertise. We are also using some of these, let's say, quieter months, to get more and more of our crew on-board with these IT skills," said Koch.
The IBC Showcase continues on Friday 11 September with final sessions in the Accelerator Programme and Owner Programme.