Euromedia accelerates UHD deployment with new truck for Monaco Grand Prix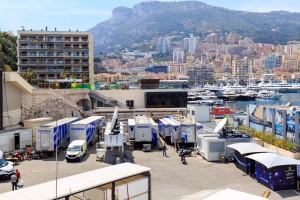 Euromedia deployed two full-UHD OB trucks, the A21 and B40 at the Monaco Grand Prix, for its first major production of the international signal in Ultra High Definition on behalf of the Automobile Club of Monaco.
The B40 truck has been upgraded to support key live broadcasts in 4K and provided image quality that is four times better than HD for the Monaco Grand Prix. Out of service for almost a month, the B40 truck's upgrade was modeled on the A21 vehicle, which was released in January.
B40 was rebuilt from the ground up and features GVG Kayenne K-Frame switcher, a SAM router and glue, Evertz multiviewers as well as Vutrix and Penta broadcast monitors.
Given the scale of the UHD production deployed in Monaco last Sunday, a technical crew of around one hundred worked all out to install a total of 52 cameras including 46 Sony cameras, four Panasonic cameras and two 4K Superloupes from Digital Video Sud. The A21 truck handled the world feed, while the B40 produced footage of the grandstands and specific cameras.
The feeds were transmitted via Monaco Telecom's fibre-optic system to which 14 kilometres of hybrid fibre-optic cable had been added for the cabling of all the cameras. The slow motion replays were recorded by the LSM servers in 1080/5P and then upconverted to UHD, as were the four LiveTools Technology wireless links in the grandstands.
Gaël Tanguy, Technical Director at Euromedia said: "Each year in Monaco we accomplish a major production feat by using all the available resources of one single OB truck and moving workstations to another OB unit. This year the technological challenge consisted in maintaining the same number of cameras and using the combined resources of the two UHD units."
Lionel Vialaneix, Chairman of Euromedia added: "As soon as the Grand Prix was over, the A21 truck went directly to Sotchi in Russia to produce 3G coverage of the Confederations Cup football tournament for HBS. The B40 truck returned to Paris to cover the TOP 14 finals in UHD for Canal+ before tackling another technological innovation for France Télévisions at Roland Garros."