Euromedia, Canal+ capture Monaco vs PSG match in 4K
On 30 August, Euromedia technicians and Canal+ editorial staff joined forces to film and broadcast the evening's match in 4K from the Stade Louis II to a pub situated in the 12th Arrondissement of Paris. The test was particularly important as Canal+ is in the process of considering how to use 4K in the future.
Inside Euromedia's C42 truck, Mohammed Hassani, the director in charge of the production, explained: "We need to keep shots relatively wide. The few close-ups we shoot are used for cutaways. Because the overall image is so sharp, the viewer's eye needs some time to adjust, so we have to slow down the production rhythm a lot and move the camera less."
François Charles Bideaux, sports production director for the pay TV channel, was also present for the occasion and explained: "We hope to fully exploit the use of 4K in terms of added value for viewers. The immersive experience is particularly interesting, but we have to rethink camera positions by placing them lower in the stands and also change the way we film, as Mohamed has just said."
Euromedia compares cameras
Mohamed Hassani uses ten camera sources, which include two handheld cameras. Nine feeds are from 4K cameras and the tenth is from an HD camera whose signal is directly upconverted by the Snell Kahuna 9600 mixer, which is equipped with a Maverik panel that has a modular control surface with detachable modules. Five EVS XT3s handle slow-motion replays.
"For this UHD production we decided to try out different brands of cameras and lenses: specifically Hitachi, Sony, Panasonic and Grass Valley. We used two Fujinon 22X 4K lenses as well. We also took this opportunity to compare the various products and tools currently available on the market as we prepare to replace our entire camera inventory over the next four years (Editor's Note: this amounts to approximately 400 pieces)," declared Gaël Tanguy, Euromedia's technical director.
4K workflow details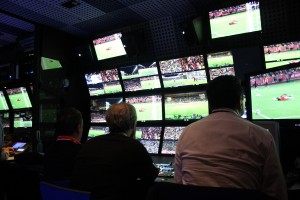 "4K streaming requires very fast internet connections but setting up the 4K production has become very easy. For this match, two cranes with 4K cameras were used. One of the two cameras was used to send an HD signal to the usual production centre. This was also a way of testing synergised production of 4K and HD," continued the technical director.
The UHD signal was sent by satellite. Two Globecast SNG vehicles on site encoded the four 3G-SDI sources and delivered a 20mbps stream to the end production centre at Canal+ in Boulogne.
They were then encoded in H.265 format and fed back to the pub in Bercy Village where viewers were watching the game. Looking ahead, a further trial could take place during the PSG vs OM match on 4 October.