Euromedia goes all out for UEFA EURO 2016 coverage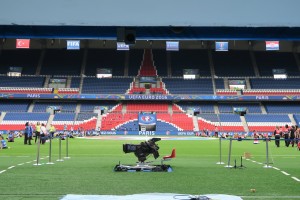 As UEFA EURO 2016 draws to the semi-finals climax, Euromedia has released details about its central involvement in the UEFA set-up. Up to 50 technical staff from the company are on site to make sure all goes according to plan. On the OB front, the French company has supplied four vans to ensure UEFA coverage, two at the Parc des Princes and the other two at the Saint-Denis stadium.
On the Parc des Princes site, the A41 provides the multilateral live feeds for each of the five matches in the stadium, including highlights, supplementary production feeds, isolated camera feeds and slow-motion.
The second van, the A3, supplies the FANtertainment (giant screens inside the stadium) and unilateral feeds for all of the five matches. It also has a Plan B van which can take over from the main one if required.
At Stade de France a similar set-up of one main van, the A21, supplies multilateral feeds and other
additional multilateral feeds and one secondary van, the B40, is for the FANtertainment and unilateral feeds, providing coverage for the seven games taking place in the stadium. Likewise, the B40 is on hand to take over should anything disrupt coverage from the main van.
According to Euromedia, two of the four vans were entirely upgraded for the event, moving from SD technology to HD/4K environment. All vans had to be adapted to UEFA requirements concerning the number of workstations and significant new equipment investments were made, including new cameras and lenses. The OB upgrade fits in with the company's drive to modernise its fleet, ahead of the Olympics. It also recently launched a new multi-purpose van, the Nomad.
Euromedia's camera set-up is massive and includes 21 Sony HDC1500/2400, five Sony HDC 4300 Loupes, three Sony HDC 3300 loupes and two DVS Superloupes for multilateral production and four HD cams for unilateral production.
Euromedia subsidiary DVS is at every EURO site with 25 Superloupes, and from the quarter finals onwards is suppling its latest Superloupe innovation, a mini superloupe on rails, installed behind each goal.
The EMG group to which French service provider Euromedia belongs is also highly involved in the UEFA set-up, with subsidiaries Netco Sports, ACS, Broadcast RF and United providing crucial technology at the different sites. Netco Sports created the UEFA EURO 2016 mobile app.