Euromedia launches Ultra High Def project for Canal+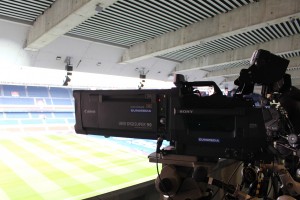 Euromedia covered the PSG/AS Monaco football match in full UHD for the first time on Sunday 29 January. With resolution four times higher than HD, shooting 4K is unique both in terms of live coverage as well as slow motion replays.
After exhaustive testing to determine the optimal technical and aesthetic solutions on the ground as well as inside the OB truck, Euromedia deployed 15 native 4K cameras (including two Superloupe 4k camera systems). The quality and sharpness of the 4K ultra slow-motion replays obtained with the Superloupes from DVS, a Euromedia subsidiary, offer an advantage for content creation.
Car 21 is used for 4k production but is also able to deliver in HD. The OB truck underwent a three-week overhaul to install a complex workflow that is four times more powerful and can rapidly shift from shooting in HD to UHD. From now on, Euromedia will produce all the premium Canal+ Sunday evening matches in 4K format.
Gaël Tanguy, Euromedia's technical director explained: "It's one thing to achieve a one-off UHD production, but it's another story when the pace increases to one match per week. In order to ensure a successful debut, we combined the forces of Euromedia's production crew with that of our suppliers: Grass Valley for the new K-frame switcher, SAM for the router and glue, EVS for the XT3 servers and Sony for the HDC 4300 cameras."
Lionel Vialaneix, President of Euromedia said: "This first broadcast in Ultra HD standard is the result of a lengthy amount of work and we are thrilled to assist Canal+ with the shift to more UHD content, especially as this will be a weekly occurrence. Sunday 29 January was the official kick off of our project to speed up the production of immersive content across multiple events and especially sports (rugby, boxing, Formula One). 4K coverage will be rapidly followed through by innovative sound coverage using the Dolby ATMOS sound system."
On the same Sunday, DVS, a Euromedia subsidiary, produced another major first for Purprod: slow-motion replays at 1000 frames/second with the Superloupe in HDR (High Dynamic Range) format for the coverage of the Grand Prix d'Amérique. The combination of slow-motion replays and HDR offers new prospects for improving future television picture quality even more.