Eurosport and NEP collaborate on cloud for UEFA Women's EURO 2017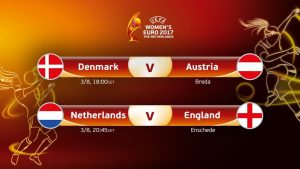 From July 16 to August 6, the UEFA Women's EURO 2017 is taking place in several cities in the Netherlands. Event host broadcaster Eurosport has not only selected NEP as its facilitating partner for all 31 games, but the companies are also partnering to showcase innovative set-ups of NEP's low latency Cloud Production. NEP's dark fibre network connects the stadium in Utrecht with its own cloud network and cloud gallery, facilitating a complete cloud production workflow.
With sixteen participating countries, UEFA Women's EURO 2017 is the largest European football championship for women. On Tuesday 25 July, the match between Russia and Germany took place at the Galgenwaard stadium in Utrecht. NEP live showcased its Cloud Production, an IP-based video production platform where all resources are available from a cloud-based IP infrastructure.
NEP used the dark fibre network to connect the stadium with NEP's cloud network, where the connected cloud gallery and shading & audio suites created a full sport programme that can be used for live broadcast. Cloud Production allows for easy sharing of central resources that can be efficiently deployed in multiple productions and locations, thereby further safeguarding the quality of the programmes.
Simon Farnsworth, EVP Sports & European Technology at Discovery Communications, said: "We are thrilled to be the host broadcaster of UEFA Women's European Championships, with Eurosport the only place that fans can watch every minute of every match live. And to ensure we have every angle covered, we will have more cameras at this tournament than we've ever had for any women's football match.
"NEP is a trusted partner and shares our focus on innovation and on pushing the boundaries of live production. We are excited to be trialling NEP's low latency Cloud Production infrastructure at these Championships — it will increase the efficiency of our live production allowing us to deliver a premium viewing experience in a more sustainable way than ever before."
Peter Bruggink, CTO at NEP The Netherlands: "We will be demonstrating different cloud production workflows for Eurosport, compressed as well as uncompressed. Onsite we will connect multiple cameras, among which a Super Slomo camera behind the goal, a presentation desk next to the field with two cameras, commentary in the stadium and a cleanfeed with our central platform in Hilversum. As a transport layer, our own 100 Gbps IP platform is used. In the gallery in Hilversum the feed will be enriched with live graphics and EVS playouts to make a complete program. Shading takes place from the central shading room in Hilversum. This way we're making a high quality and complete live programme, remote."
Besides the fully uncompressed workflow, NEP demonstrated how NEP's low latency Cloud Production would work in combination with JPEG2000 and VC2 compression/decompression for the reduction of the required bandwidth. With the joint mapping of the various technical solutions, Eurosport and NEP are providing a base for future international projects.
In addition to Cloud Production and the full registration of all matches, NEP is responsible for venue management, commentary positions, dedicated pre and post match live positions and international graphics.