Eurosport Events takes over Monte-Carlo Rally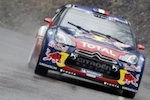 The International Automobile Federation (FIA) concluded a last-minute agreement for the promotion and distribution of the Monte-Carlo Rally, with it coming as no surprise that Eurosport Events has been selected after the contract with WRC and North One Sport was terminated.
For the moment nothing has been signed for the rest of the championship but it seems likely that the TF1 subsidiary could be nominated for the entire season. The official statement is admirably terse: "Eurosport is currently in negotiations with the FIA, in relation to the FIA World Rally Championships, to extend our role for the remainder of this and following seasons."
Technically, Eurosport Events did not have the time to organize a live broadcast (unlike last year when the event was part of the IRC programme) but it did produce a daily 26-minute highlights report. The programmes were, of course, aired on Eurosport and also on channels that had previously obtained the rights from WRC such as Motors TV (aired in 39 countries).
"Like many, I am waiting for Eurosport Events to finalize their agreement with the FIA for the entire world championship in order to remove any doubts concerning future events," commented Frédéric Viger, director of Motors TV.
For the TV production of the Monte-Carlo Rally a helicopter was used in addition to a significant ENG video camera set-up. AMP-VISUAL TV was in charge of the in-car cameras, supplying a dedicated team of four technicians to take care of the ten cars equipped with the cameras. The French company developed the system in-house. As there was no live transmission, the 3CCD HD camera systems record video content onto flash cards that can be removed rapidly after the special stages are covered, and used to edit the daily reports.