Eurosport reveals bespoke brand identity for PyeongChang 2018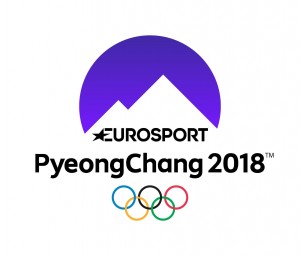 Eurosport has unveiled its on-screen logo for the Olympic Winter Games PyeongChang 2018 — its first as an official broadcaster. The Eurosport PyeongChang 2018 logo helps define a new era for the broadcaster and the world's greatest sporting event, and will be visible across all Eurosport screens and platforms in the build-up and during PyeongChang 2018.
The logo brings together the current Eurosport wordmark with the PyeongChang logo typeface, underpinned by the iconic Olympic rings. The three existing logos are headed by a mountain silhouette – the natural setting of the Winter Games. The silhouette background is arched echoing the shape of the Olympic rings and will come in several variations, using a colour palette expressing the spirit of modern K-pop culture.
Peter Hutton, Eurosport CEO, said: "As the new Home of the Olympics in Europe and a proud partner of the world's greatest sporting event, we want to ensure Eurosport is synonymous with the Olympic Games at every opportunity. This brand identity represents the spirit of South Korea and we hope will become instantly recognisable to fans as the hallmark of our PyeongChang 2018 programming."