Eurosport reveals 'Home of Olympics' logo as Bernie Ross comes on board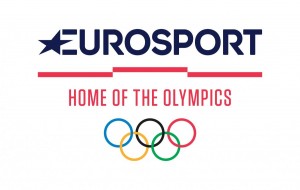 New Year's Day 2017 marked the start of a momentous journey for Eurosport, which has officially became the new 'Home of the Olympic Games in Europe'. A logo reveal took place on-air and across all screens via the Eurosport Player, Eurosport.com and Eurosport's social platforms ahead of the '4 Hills' FIS Ski Jumping World Cup stage held in Germany. The event is a part of hundreds of hours of live World Cup and World Championship winter sports coverage on Eurosport, which will follow every step of the athletes' journeys on the road to PyeongChang 2018.
Taking a lead role in that journey to PyeongChang will be Bernard Ross, who has joined Discovery Communications in the newly-created position of Eurosport Chief Operating Officer and General Manager Olympic Games. Ross has begun his new role this month, based in Paris, and reports directly to Peter Hutton, CEO, Eurosport.
Ross is charged with the successful delivery of the Olympic Games across Europe and will lead on all production, logistics and organisational aspects of the planning for the Games. With a particular focus on Germany, Norway and Sweden, his goal will be to ensure that viewers enjoy the ultimate experience on Discovery and Eurosport's extensive network of channels and consumer products.
He joins from UEFA, where he delivered UEFA EURO 2016 as Head of Production, having managed
the live host broadcast of the EURO since 2008. Ross was also responsible for the delivery of several broadcast and digital innovations, across all UEFA competitions – from the UEFA Champions League to the newly centralised European Qualifiers – including pioneering 4K and virtual reality 360° filming and UEFA's multi-platform 'Next Generation Services'.
Prior to UEFA, Ross was a Senior Producer and live Director at IMG Media where he spent 12 years working across their sports programmes and projects, including magazine shows for ATP and the Premier League.
Peter Hutton said, "Eurosport will bring to life the stories that matter most for viewers, whether it is in markets such as Germany, where Eurosport is the exclusive home of the Olympic Games, or in other European countries where we will work alongside national broadcasters. For our production team the scale of the challenge and the size of the opportunity is huge as we continue to transform our brand. In Bernie, we have someone who will drive this operation with knowledge and experience on both linear and digital platforms across Europe".
Ross said, "Following a successful 11 years at UEFA, I am delighted to take this opportunity to ensure that the Olympic Games captivates as wide an audience as possible across Europe, bringing a differentiated approach and to delivering engaging coverage across all screens. With Discovery's commitment in the Olympic Games, along with other premium sports rights, this is clearly a transformative period for the business, thrilling fans across Europe and bringing the ultimate sporting spectacle to life through a redefined viewer experience".
Eurosport's new Olympic Games logo will define a new era for Europe's number one sports destination and the world's greatest sporting event. The logo brings together two iconic identities in Eurosport and the Olympic rings. During the unveiling, Eurosport premiered its new Olympic Games film: Millions of Journeys, One Destination. The programme follows the journeys of two athletes from childhood to competition, showing the imperatives of dedication and overcoming adversity to winning and becoming an Olympian.
JB Perrette, President and CEO, Discovery Networks International, said: "For over 30 years, Discovery's mission has been to inspire people around the world, and it is tremendously exciting to now be the Home of the Olympic Games in Europe and partner with one of the world's greatest global brands. We now begin our journey to redefine the Olympic Games experience and reach more people in Europe, across more screens than ever before."
Discovery Communications and Eurosport holds the exclusive multimedia rights for 50 countries and territories* in Europe for the 2018 through the 2024 Olympic Games, announced with the International Olympic Committee in June 2015.
*Excludes France 2018-2020. Eurosport will be the Official Broadcaster in the UK 2018 and 2020. Excludes Russia.