Eurosport to use enhanced Winter Olympics Cube studio for French and US Open tennis presentation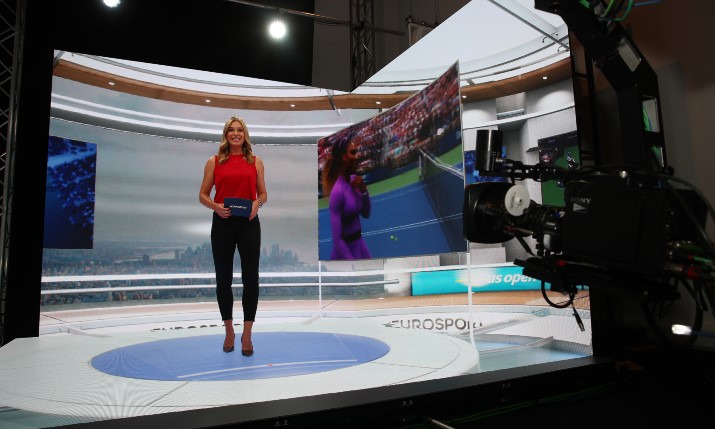 An updated version of the mixed-reality 'Cube' presentation studio that was used by Eurosport to great acclaim during its coverage of the 2018 Winter Olympics is to be applied to the broadcaster's US Open and French Open tennis tournament output.
The Cube is an interactive studio set that makes use of augmented reality (AR), deep data and enhanced graphics to allow for in-depth analysis and visualisation of sporting action.
Launching next week (31 August) for the US Open in New York, it will feature Barbara Schett (pictured above) anchoring Eurosport's coverage in London alongside seven-time Grand Slam winner Mats Wilander.
Pundits Boris Becker and Justine Henin will also be beamed into the Eurosport Cube studio from Munich and Paris respectively to give their own expert perspective on the men's and women's matches.
The updated Cube was originally due to be premiered at the Summer Olympics in Tokyo but with the games having been pushed back to 2021, Eurosport opted to use it on the US Open and French Open tennis first.
Andrew Georgiou, the president of Eurosport and Global Sports Rights and Sports Marketing Solutions, said: "The award-winning Eurosport Cube was the hit of our first Winter Olympic Games, garnering praise from sports fans and lauded by the industry for redefining the Olympics viewing experience. We've worked hard to take it to the next level and integrate new technologies with a plan to unveil it at the Olympic Games Tokyo 2020.
"We don't plan to unveil all the bells and whistles straight away – instead keeping some things up our sleeves for next summer."
"With the Games re-scheduled but the experience ready to go, there's no better arena than Grand Slam tennis to see the return of the Eurosport Cube. We don't plan to unveil all the bells and whistles straight away – instead keeping some things up our sleeves for next summer.
"The Eurosport Cube forms part of our plans to enhance our storytelling throughout the tournament which centres around the opportunity for fans to watch all courts, live and on-demand and however they choose to view. The Cube will transform how fans connect with tennis and the players, bringing to life technical nuances and analysing play like never before.
"With Roland-Garros from Paris also coming up next month, we are entering one of the most exciting periods for tennis fans in Europe who never have to miss a shot with Eurosport."
The Cube will be used for the US Open output across Europe. For Spanish viewers, Alex Corretja and Conchita Martinez will offer their own insights while Henri Leconte will be front and centre for French tennis fans.
Thomas Enqvist and Jonas Bjorkman will provide analysis for Eurosport in Sweden with 2015 US Open finalist Roberta Vinci an integral part of Eurosport's coverage in Italy.
A winner of the IBC Innovation Award 2018 for Content Creation, the Cube was originally envisaged by Stefano Bernabino, the former vice president of Olympic Production at Eurosport. It was built for the Discovery-owned broadcaster by White Light and its technical partners disguise and Deltatre.
The 2020 US Open takes place 31 August to 13 September in New York with the French Open 27 September to 11 October in Paris.