IBU Biathlon World Championships goes live with Eurovision Services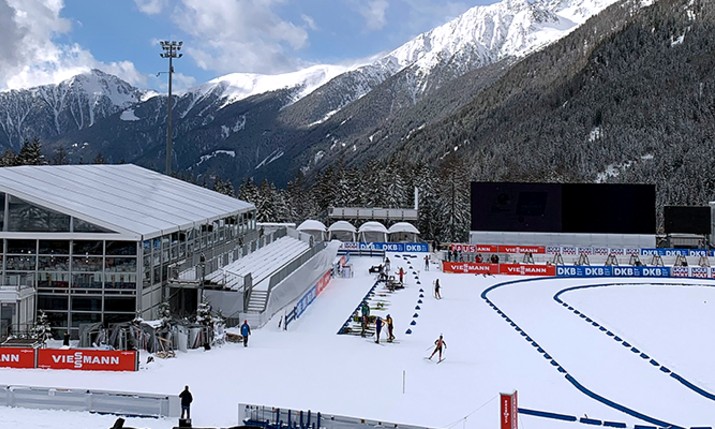 A skidoo camera, a drone, super slow motion cameras and a rail cam are among the tools being deployed by Eurovision Services as the host broadcaster for the IBU Biathlon World Championships which is currently taking place in Antholz-Anterselva, Italy (12-23 February 2020).
The event is being broadcast live by at least 18 members of the EBU in Europe, plus a range of other broadcasters worldwide. These include: Eurosport, Eurosport Asia, NBC (USA), Polsat (Poland), L'Equipe (France), Match TV (Russia) and CCTV (China).
Eurovision Services is distributing three international feeds to rights holders in Europe, Asia and the Americas, as well as providing dedicated services to several broadcasters.
In total, more than 330 hours of live coverage are scheduled to appear via linear TV, with most broadcasters also offering supplementary coverage on their digital platforms.
These figures represent approximately a 10% increase on the level of coverage of last year's IBU World Championships held in Östersund, Sweden, thanks to the addition of two EBU Members: Iceland's RUV, and RAI in the host country of Italy.
The line up of EBU Members and other broadcasters guarantees free-to-air coverage and wide visibility for the sport of biathlon across Europe and around the world.
TV viewers are being taken as close as possible to the action by Eurovision Services with 44 cameras around the stadium and medals plaza, including a skidoo camera, a drone, super slow motion cameras and a rail camera covering the targets in the shooting area.
The strong community of ardent biathlon fans who are unable to make it to the beautiful resort of Antholz-Anterselva, in the Italian Dolomites, will be able to follow all the action on their national television channels or live on eurovisionsports.tv, where they can enjoy Eurovision Services international coverage.
"The IBU Biathlon World Championships are a major event for us and a great opportunity to showcase our complete service offering, covering host broadcasting, venue services, distribution, dedicated circuits and digital services. We have deployed considerable resources for the event and will be providing over 40 hours of live broadcast, covering all competitions and medal ceremonies, as well as pre and post event footage. We are proud to help broadcasters satisfy the increasing demand for biathlon coverage worldwide," said Marco Tinnirello, CEO of Eurovision Services.
EBU Members broadcasting the IBU Biathlon World Championships 2020 are: ORF (Austria), BTRC (Belarus), CT (Czech Republic), TV2 (Denmark), ERR (Estonia), YLE (Finland), ARD and ZDF (Germany), RUV (Iceland), RAI (Italy), LT (Latvia), NRK (Norway), C1R (Russia), SKRTVS (Slovakia), SIRTVS (Slovenia), SVT (Sweden), SSR (Switzerland) and UA:PBC (Ukraine).
Eurovision Services is an EBU company and provider of media solutions for international sports federations.