EVS acknowledged for contribution to landmark football coverage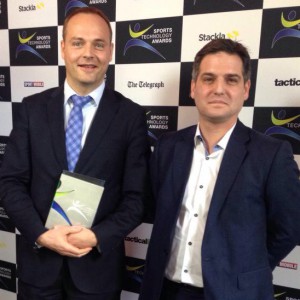 EVS was recognised as best technology provider at the Sports Technology Awards 2015 held in London last week. The company's live production technology enabled the ingest, management and distribution of the live content for the 2014 FIFA World Cup.
In Brazil, a broadcast infrastructure at each stadium consisting of 16 EVS XT3 live production servers, managed by various live production tools – including EVS' LSM remote control panel, MultiReview, IPDirector and Epsio – captured the action from more than 30 cameras and supported fast-turnaround editing as well as instant replays. EVS' connected content technology, C-Cast, was also implemented into this workflow. It acted as a multimedia production and distribution platform to deliver video content to a white label mobile application designed, implemented and managed by FIFA's dedicated host broadcaster, HBS.
More than 10 million apps were downloaded and as many as three million users a day chose to enrich their experience using the application. Over the course of the tournament, more than 24 million unique users watched tens of millions of hours of content via the multimedia solution.
The judges of the 2015 Sports Technology Awards were a panel of specialists from the sports and technology industries, including former Arsenal vice-chairman David Dein, multiple World and Commonwealth swimming champion Karen Pickering, and CEO of the British Olympic Association, Bill Sweeney.
Quentin Grutman, SVP for EMEA at EVS, accepted the award on behalf of the company. "With the FIFA World Cup in Brazil commanding the world's largest TV audiences for a sporting event, we're delighted that EVS live production technology was relied upon to bring the excitement of the event to viewers around the world, setting new standards for modern sports broadcasting," he said.
Full results of the 2015 Sports Technology Awards can be found here: https://www.svgeurope.org/blog/headlines/glory-for-evs-at-sports-technology-awards-2015/.