EVS teams up with Blackbird for 'producer friendly' web-based video editing app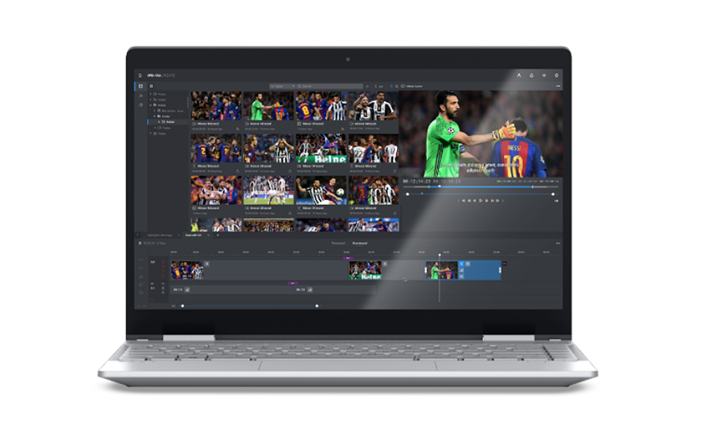 Belgian live video technology provider EVS has launched a new web-based app that allows MediaCeption Signature users to edit video content from inside the end-to-end live production asset management (PAM) platform.
Called IPD-VIA Create, the app was designed in collaboration with Blackbird, the cloud-native video editing platform developer. It provides instant access to video content in MediaCeption Signature through a browser-based interface, allowing for local or remote workflows in which content can be rough cut or assembled before being pushed to craft editors or directly distributed to viewers via multiple channels.
During a briefing with the broadcast trade press today (12 December), the app was described as "collaborative with a non-threatening and non-technical interface" making it ideal for producers or journalists to use when supporting an editor or replay operator while the live-action plays out, and is being captured, on the field.
Tools include a 9×16 video framing effect, colour correction, and the choice between Thumbnail and Timeline displays. As part of EVS' VIA platform, users can also make use of the central workflow engine – VIA Flow – by exporting their sequences to any destination, including Play to Air and social media.
MediaCeption Signature is a content management and media workflow platform that works along the production cycle from ingest to playout, and provides end-to-end workflow orchestration and system monitoring.
Nicolas Bourdon, chief marketing officer at EVS, said: "Every single component of our MediaCeption Signature solution has been built on EVS' deep expertise and experience in live production.
"And since the edit-while-capture concept is at the heart of everything we do, this is a huge time saver for MediaCeption Signature users who can begin working on their projects while feeds are still being recorded and ingested. IPD-VIA Create enables faster and more efficient editing in live production, which ultimately will help production teams reach the finish line faster."
IPD-VIA Create sequences can be made instantly available in craft editing solutions including Avid Media Composer and Adobe Premiere Pro.
The app can be deployed either on-premises or in the cloud.
Blackbird chief executive Ian McDonough, added: "IPD-VIA Create affords end users with a full editing suite embedded in the EVS PAM. The suite has all the same speed, efficiency, and carbon reduction benefits that Blackbird customers enjoy. [It] can rapidly deliver time and cost reduction efficiencies and enhance end-user performance through advanced functionality and Blackbird's highly responsive patented codec."
EVS will be showcasing the IPD-VIA Create application for the first time at the SVG Summit in New York on 12 and 13 December 2022.