EVS Xeebra video review system in play for British and Lions rugby tour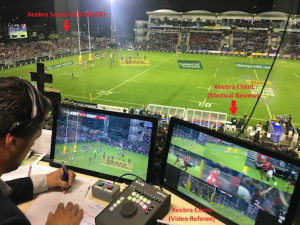 EVS is providing video assistant referee (VAR) solutions to a range of high profile sports this summer, kicking off with the British and Irish Lions rugby tour of New Zealand. Its Xeebra multi-camera review system was also courtside for the FIBA EuroBasket Women 2017 basketball tournament and will be used throughout the 2017/18 Polish Ekstraklasa football league season.
Xeebra lets match officials, coaching staff and medical personnel review plays with the greatest clarity and convenience. Through an intuitive touchscreen, they can view up to 16 live camera angles that remain entirely in-sync. Users can then narrow their view from all feeds down to one full-screen view – and anything in between, giving them the ability to review whatever angle needed in detail – quickly and efficiently. Xeebra's client/server architecture means that users can sit where they prefer, rather than having to be located close to the server, guaranteeing the most flexibility and scalability possible.
New Zealand-based outside broadcast services provider OSB announced it had purchased a fleet of Xeebra multi-camera review systems at the 2017 NAB Show for use in all international rugby competition in the country. As part of this deal, Xeebra is being used by the television match official (TMO) and also for medical review purposes throughout the British and Irish Lions tour of New Zealand.
For each match, a Xeebra server powers two Xeebra clients. The first is used by the TMO, who is located high up in the stand and the second is used for the Medical Review (MR) and is positioned pitchside so that the medical team can swiftly analyze footage from multiple angles using a combination of EVS' BEPlay remote and the touchscreen. They can also automatically export the clips for further review after the match.
Built on EVS technology, Xeebra has the speed and reliability that's come to be expected by EVS users, meaning the TMO is able to review content and make decisions faster without any unnecessary delay to the game.
Xeebra was extensively tested by the International Basketball Federation at the 2016 FIBA Olympic Qualifying Tournaments (OQTs), in Italy and in Serbia. It was implemented as EVS was named an official FIBA Equipment & Venue Center Technical Partner. As a technology provider to the governing body, Xeebra was also used throughout FIBA EuroBasket Women 2017 that was held last week in the Czech Republic.
Longtime EVS client MEDIAPRO Group deployed the Xeebra system at the tournament. The server was located in an OB truck, and then connected via fiber to the courtside Xeebra client on the referee's table.
Football applications
In a move that demonstrates the growing importance for VARs in professional football, PZPN – the Polish Football Federation, will be the latest governing body to use Xeebra as its video referee. The EVS solution will be implemented by systems integrator and EVS partner twenty4seven as they build two mobile VAR units, which will be deployed for the 2017/18 season of Poland's top division, the Ekstraklasa.
The mobile units will each be equipped with three Xeebra servers, all linked to a Xeebra client allowing officials to be positioned anywhere in the stadium. The deal shows multiple organizations coming together to improve the games' officiating with the Xeebra systems – which are fully compliant with IFAB and FIFA regulations – being operated for the Ekstraklasa by Live Park, the host broadcaster of the division.
"This summer's implementation of Xeebra is proof that more and more sports governing bodies are recognising the benefits of our system over other solutions whether for officiating, player welfare or medical review," said Stéphanie Dessart, senior product manager at EVS. "It gives users a system that grows with their needs and can be placed anywhere inside a venue – it also means they can benefit from the speed and reliability that can be guaranteed by the implementation of EVS live technology."
EVS launched Xeebra at the 2016 NAB Show, shortly after the system made its debut at NFL's Super Bowl 50 in San Francisco.