Extreme E and Aurora Media Worldwide take dual honours at prestigious SVG Awards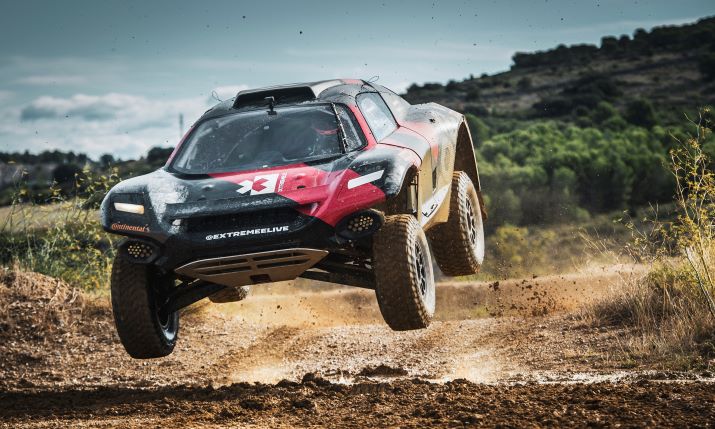 Groundbreaking electric off-road racing series, Extreme E, together with its host broadcast agency Aurora Media Worldwide, has won two accolades at the prestigious SVG Europe Awards, presented at the Sports Production Summit, Amsterdam.
Both Extreme E and Aurora Media Worldwide faced fierce competition from the highest echelons of the sports industry. Throughout the selection process, the judges were looking to reward those that have taken risks, led by example, overcome challenges, and achieved results in both production and broadcasting throughout the 2021 calendar year.
Ali Russell, chief marketing officer at Extreme E, said: "We are beyond delighted to have won these two very prestigious SVG Awards. It is a huge fillip for both us and Aurora Media Worldwide.
"Working with Aurora Media Worldwide is a joy. They are a trusted leader in broadcasting and do an amazing job of bringing our unique motorsport adventure, in incredible locations, to life while inspiring fans in ways never seen before in motorsport.
"Nothing beats recognition by our peers of the immense hard work that we have all done in highlighting environmental issues, promoting sustainability and gender equality, whilst at the same time bringing world class sporting entertainment to millions of viewers."
As a sport built out of social purpose, but with racing at its core, Extreme E utilises its platform to promote electrification, sustainability and gender equality. Racing in remote locations previously damaged by climate change or human interference, the series aims to maximise awareness around these critical issues, whilst minimising the environmental impact of its events.
Extreme E's host broadcaster, Aurora Media Worldwide, is a fully integrated content agency which is central in bringing Extreme E's world-first motorsport to life. The Championship's remote race locations – which include desert, arctic, glacier and coastal sites – provide a challenging yet stunning canvas for hybrid storytelling.
Lawrence Duffy, managing director at Aurora Media Worldwide, said: "Once in a while a project comes along which genuinely moves the needle. The pioneering spirit and innovation behind Extreme E has been very well recognised by our industry and that is very gratifying. But we have only just started to tell the story of climate change through the lens of sport. We all have much more to learn about sustainability and we hope to take the audience with us."
George Bevir, SVG Europe editorial director and Chair of the judges, added: "Congratulations to all the winners and everyone who was shortlisted. They should all be rightly proud of their achievements. The jury's choices reflect the best of sports television in Europe but also highlight the incredible work that the industry continues to do. Long may it continue."