F1 gears up for 4K UHD remote production and looks ahead to IP and HDR
The world's most popular motorsport gets the greenlight in Melbourne on 25 March under new management and an evolving suite of editorial products designed to reinvigorate storytelling and return to the visceral wheel to wheel action viewers may recall from the battles of Hunt v Lauda or Prost v Senna.
Liberty Media completed its acquisition of Formula 1 in January 2017 and has been on a rapid path to re-connect the iconic global motorsports business with fans. Last season saw the introduction of UHD coverage from all 21 races, a decision already in train before Liberty took over, but this is the first season in which its strategy of reinventing the fan experience is put into action.
After "a lot of nervousness" this time last year, the UHD production ultimately proved "extremely successful" says Formula 1 TV systems Group Manager Trevor Turner.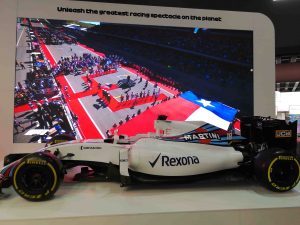 The team did face teething problems in moving from a single coaxial HD-SDI environment to a Quad 3G-SDI one. Specifically, they found they were taking a hit on their ability to react quickly to changing production demands.
"We get frequent requests from production, for example, to throw feeds to a different monitor or add or change sources to the SAM Kahuna and Livetouch systems which we were prepared for of course, but it wasn't as intuitive as we had become accustomed to with our previous system."
With up to 24 fibred cameras around the track, pit-lane, heli-cam, RF cameras and on-car cameras, there are about 60 individual sources. That's proved a lot for the new system to handle.
"In essence, the volume of sources and the variety of video formats we have meant sometimes the ability to react was a little slower than it might have been," says Turner. "In the beginning working in Quad-3G felt like we had one arm behind our back.
"Ensuring that all of our sources were available both in UHD and 1080p where we needed them and being aware of the impact that the changes in production requirements have on the configuration was initially challenging. The flexibility of the Kahuna 9600 with upstream switching meant that the team were above to achieve the flexibility required between 720p, 1080p and UHD sources.
He continues, "We have a lot of sources which we upstream switch into Kahuna from the router and adding or changing a camera into the production that's not in the format the mixer is expecting can cause a headache. It's best that the Kahuna knows what format to expect on each input so some quick engineering footwork was occasionally required to convert sources upstream to avoid this.
"From about two thirds of the way through the season we had overcome these initial hurdles and ironed out the issues so that it just became normal again. Everything had bedded in and didn't cause any more alarms."
In the close season Turner's team has been busy adding in more flexibility; "cross conversion cards and more 'glue' so we can better utilise the system," he says. "There is always more we wanted to do so adding more glue helps us achieve this."
There is also a completely new audio production area for 2018 as well as a new operational workspace for the Pit & Paddock operation.
However, the system is already reaching its peak capacity.
"We are already right up against the limits on our router," says Turner. "Because we are running a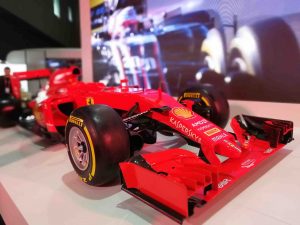 Quad 3G UHD system — and an HD 3G-SDI system in parallel too – the majority of sources require five inputs [on the router] and it doesn't take more than the addition of another two to three cameras, for virtual graphics insertion for example, and the resulting monitoring and routing processes are right on the limit."
Gearing up for remote production
For this reason, Turner is looking to the future and a remote over IP production.
This season Sky UK and Sky Italia will be producing their F1 coverage remotely, taking their unilateral camera feeds, audio and comms from the track back to their own facilities in London and Milan.
It's a model F1 would like to replicate in the future but only once the technology has matched the complexity and scale of F1's global operation.
"We are still an OB in the real sense and we are expanding more functionality back into our UK technical centre and leveraging the connectivity that Tata provides us to deliver more without having an impact on the number of travelling staff, amount of kit and freight costs.
"Because we made the technology choice only last year to produce UHD in the way we are, we will remain with that for a while until we've worked out the next steps."
He explains that eighteen months ago, when F1 started to specify the equipment for UHD the rationale was not to move to IP because running a UHD signal over 2022-6 and 10G pipes meant compression and that was something they didn't want to compromise on.
"Since then, 25Gig, 40Gig, 100Gig and faster IP networks have started to become available," says Turner. "It's clear that uncompressed video over IP video has become so much easier to use, and quicker to roll out [now that standards are in place], than most people expected and on a scale which we would need."
IP standards are moving on at pace, connectivity has become more ubiquitous and Sky, as well as NEP in Australia, are proving how it is done.
"I would have no qualms about going over IP today but nor can we have all our eggs in one basket," says Turner. "We have to think about disaster recovery and the 'what ifs'. Even with the very best connectivity we need to ensure we have a wholly robust solution."
Unlike leading soccer grounds around Europe, most of which are fibred and which will host 20 plus live matches a year, Formula 1 visits each Grand Prix circuit once a year, each in different countries with different challenges.
"We're taking a measured approach towards remote production but we are not there yet. There are lots of parts in play."
HDR complexity
Having experimented with HDR last season "We know how to do it. Our systems were bought with that in mind [primarily the Grass Valley LDX-86n cameras]. But it is not so straightforward," says Turner.
For a start there are more variable lighting considerations at tracks than you'd find at the relatively more controllable environment of a soccer stadia. Weather at a Grand Prix could be sunny, rainy or cloudy – often all in one afternoon and at different parts of the circuit at the same time. Then there are the flood lit night races such as Singapore.
"We expect varying conditions in the places we operate but you have to be sure you understand how parallel SDR and HDR productions can deliver consistent quality, how to rack the cameras properly. And some cameras the production relies on don't have HDR capability meaning that external convertors maybe required. The use of Format Fusion 4 software in the Kahuna makes this process much simpler.
"Then it becomes a question of global distribution. We could easily have HD SDR, HD HDR, UHD SDR and UHD HDR feeds to contend with. Processing and monitoring these various outputs for multiple broadcasters becomes highly complex to manage. We don't really want to be putting a myriad of different versions out. Should our broadcast partners require HDR in the future, we want to approach it properly."
Editorially, F1 promises a raft of enhancements in 2018, to deliver the sport's visceral appeal to fans around the globe.
Audio has been enhanced with new microphone positions on the cars, and new microphone placements trackside. There will be greater emphasis on being closer to the action, on track and behind the scenes with new camera angles. There's a complete and more inclusive graphics rebrand enabling the fans to better follow the action e.g. turn number watermarking, and all the cars will be fitted with 360-degree cameras for recorded content and packaging to F1's digital platforms.
Another focus is fan engagement at the track where F1 is working hard to ensure that its fans are fully immersed and engaged with the event. Enhancing connectivity to mobile devices at the circuit is one aspect being considered and brings the key challenge overcoming the build out of physical and backhaul infrastructure networks to enable 100,000+ spectators to enjoy unprecedented access to F1 content.
This season also sees the launch of F1's OTT service – F1TV. Launching in nearly two dozen markets it leverages Tata's Ultra Live Video Delivery Network to deliver multiple live feeds directly to subscribers from trackside.