Facebook becomes Official Social Media Services Supplier of Rugby World Cup France 2023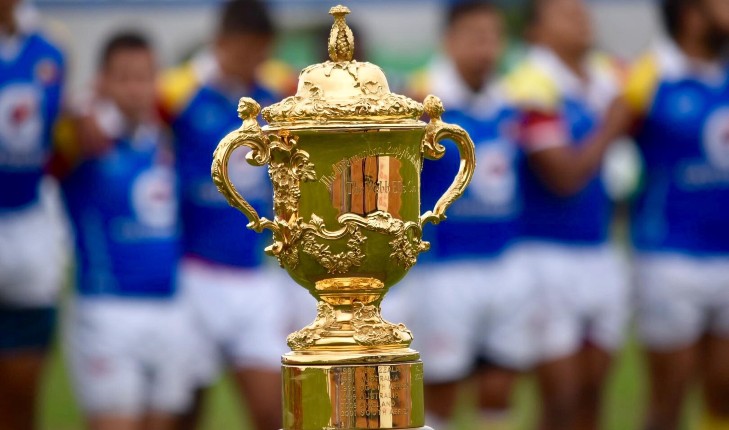 Facebook has become the Official Social Media Services Supplier of Rugby World Cup France 2023. As an Official Supplier, it will support the tournament's mission of making the event a moment of sharing and celebration across all regions in France and around the world.
This is the first time Rugby World Cup has had an Official Social Media Services provider, demonstrating the sport's growing popularity and how it is increasing its access to fans across the globe. Facebook will launch a range of features, including AR photo filters, Lives and other moments to create excitement around the event and reach a new generation of rugby fans.
To celebrate and officially mark two years to go until France 2023, a show was live streamed exclusively on Facebook on 8 September. Fans had the opportunity to go behind the scenes of Rugby World Cup 2023 on the road to the opening match between hosts France and three-time champions New Zealand at the Stade de France. The show featured special guests and personalities who shared their passion and insights around this international sporting moment. It was also an opportunity to discover the ten French host cities and get a closer look at how they are preparing to welcome fans from France and around the world.
Facebook will also contribute to the tournament's legacy when it provides free digital training to 3,000 young apprentices as part of Campus 2023. This apprenticeship programme, designed by France 2023, aims to train the new generation of French sports professionals and leave a legacy of new resources to sports clubs and regional leagues.
Claude Atcher, CEO of France 2023, said: "We are extremely proud to welcome Facebook as the Official Social Media Services Supplier of Rugby World Cup France 2023. The Rugby World Cup France 2023 will be a time for celebration and sharing for French and international fans both in and outside the stadiums. Facebook represents the biggest virtual stadium in the world and this collaboration will allow us to be even closer to Rugby fans and offer them new innovative experiences. Together we will share our passion for rugby, our values and engage with new rugby enthusiasts around the world."
Laurent Solly, VP of Facebook Southern Europe, said: "Connecting people to their passion and creating community is Facebook's mission and, as the Official Social Media Services Supplier of Rugby World Cup France 2023, we will enable rugby fans from around the world to come together on our platforms to celebrate their passion, connect with their favourite teams and players, and share the values of respect and community that are core to Facebook and Rugby World Cup. Contributing to the local community is equally important to Facebook and we are also delighted to be part of the Campus 2023 programme and will mobilise our employees and experts to provide digital training to future sports professionals."
Rugby World Cup France 2023 will take place from 8 September to 28 October 2023. It will be the 10th edition in history, which will also celebrate the 200th anniversary of the invention of rugby. The competition's 48 matches will be held in nine stadiums, across 10 cities and seven host regions. France 2023's ambition is to have a positive impact for rugby, the planet and France by delivering a responsible event that addresses the challenges of today and tomorrow.
For the first time in the event's history, and in accordance with the Rugby World Cup 2023 hosting agreement, the France 2023 Organising Committee has acquired commercial rights that enable it to build tailor-made official sponsorship offers through dedicated activation programmes.