Ferrari goes for AWS for increased fan engagement through machine learning, analytics and compute capabilities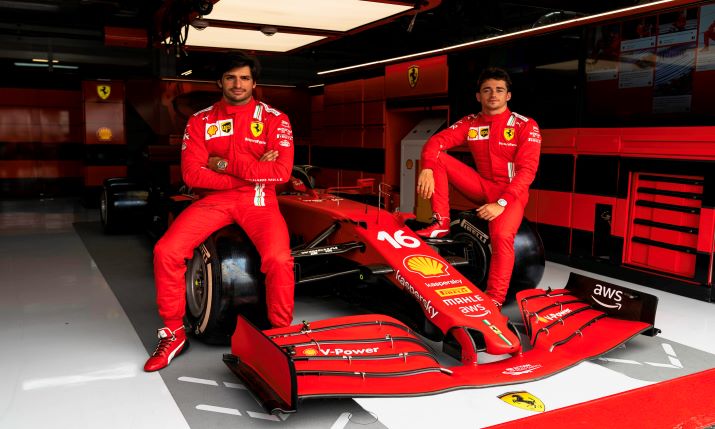 Ferrari has selected Amazon Web Services (AWS) to utilise machine learning, analytics and compute capabilities to accelerate innovation across its road cars department, GT Competitions, Ferrari Challenge and Formula 1 team, Scuderia Ferrari.
As Ferrari's official cloud, machine learning and artificial intelligence (AI) provider, the companies will accelerate the pace of innovation across the entire Ferrari organisation.
As well as other initiatives across the business, Scuderia Ferrari will use AWS to launch a digital fan engagement platform via its mobile app to engage hundreds of millions of fans worldwide with exclusive, personalised content.
Here, SVG Europe caught up with Ferrari's Enrico Cardile, head of chassis area at Ferarri, to get the details on the new relationship.
Why have you partnered with AWS? What does it bring to Ferrari technically that you didn't have before?
EC: AWS and Ferrari stand for excellence in their respective spheres of activity and we always seek excellence when looking to build a partnership. This is even more true when it comes to sport, where the contribution of our partners can be decisive in terms of success on track and that's what we're counting on doing in this collaboration with AWS.
From a technological perspective, clearly being able to count on AWS' knowhow in sectors such as AI, machine learning and high performance computing (HPC) simulations, as well as its cloud infrastructure, will allow the entire company to make progress in areas that are vital for the future, both on the race track and on the road.
What can Ferrari and F1 fans expect to see that is new from you, using AWS technology?
EC: One of the first things fans will see is a new app experience. Scuderia Ferrari will use AWS compute, containers and media services to power a new digital fan engagement platform via its mobile app that will inform, educate and entertain fans.
The idea of creating an app just for fans of the Scuderia came out of our very first talks with AWS. Our common goal is to give the tens of millions of Scuderia fans a tool that will allow them to experience the life of the Scuderia in real time.
How does this partnership fit into Ferrari's broader aims of bringing fans closer to the Formula 1 team?
EC: For Scuderia Ferrari, our fans are a priceless asset and we decided to create the app specifically to strengthen our ties with them. In the past decade, social media has expanded the possibilities for dialogue, but an app is a unique way of creating an online community where fans from all around the world can share their passion for the Prancing Horse and, to a certain extent, feel part of its legend.
What AWS technologies is Ferrari using to improve the fan experience?
EC: Ferrari will rely on AWS's advanced analytics, machine learning, compute, storage and database capabilities to rapidly achieve insights into car design and performance on the road and track. Ferrari will leverage Amazon Elastic Compute Cloud (Amazon EC2), with a range of specialised instance types for efficient HPC, to run complex simulations that test car performance under a wide variety of driving conditions and racing scenarios.
As part of this work, Ferrari will use AWS Graviton2-based instances, which consistently deliver up to 40% better price performance over comparable current generation x86-based instances.
Further, by tapping into the virtually unlimited scale of AWS HPC resources, Ferrari can run thousands of simulations concurrently to gain insights far faster than ever before possible running simulations in an on-premises environment. As a result, the company's engineers can pursue an agile approach to experimentation with new designs and strategies to accelerate their pace of innovation.
As Ferrari moves from simulation to assembly of its new road vehicle prototypes, it will apply AWS analytics and Amazon SageMaker (AWS's service that helps developers and data scientists build, train and deploy machine learning models quickly in the cloud and at the edge) to inform testing and gain deeper insights into how its parts and cars perform under real world conditions.
To support this work and its simulations, Ferrari will build a data lake with Amazon Simple Storage Service (Amazon S3) and use AWS Lake Formation to quickly and securely gather, catalogue and clean hundreds of petabytes of data. Ferrari will examine factors that impact car performance and driver handling, such as engine temperature at different vehicle speeds, vehicle vibration patterns on different road surfaces and suspension loads that affect how the vehicle grips the road.
Using AWS services to gain a holistic view of car performance, Ferrari can deliver their customers driving experiences that are more thrilling, but also safer and more reliable.
Ferrari will also leverage AWS to make it easier for current and prospective customers to build, purchase and maintain their cars. Using Amazon Elastic Kubernetes Service (Amazon EKS) and Amazon DynamoDB (AWS's fully managed key-value database), Ferrari will be able to quickly create, deploy and scale improved digital experiences such as the Ferrari Car Configurator. Consumers can use the Configurator to custom-build their car and then immerse themselves in it using high-resolution 2D and 3D visualisations. AWS will also power Ferrari's Vehicle Information Hub that centralises and manages customers' car information, providing them with proactive, personalised information related to servicing and maintenance.
In addition, for F1 racing fans, Scuderia Ferrari will use AWS compute, containers and media services to power a new digital fan engagement platform via its mobile app that will inform, educate and entertain their fans. Upon creating customised profiles, fans will receive exclusive content such as virtual access to the Scuderia Ferrari garage and hospitality suite on race days.
Moving forward, Ferrari plans to build virtual and augmented reality experiences on AWS that bring fans into the garage to interact with drivers and team personnel. Ferrari will also build a virtual fan community among the app's millions of users and engage fans with app-based quizzes on race days.
When can racing fans access the new content and services Ferrari will provide as a result of the partnership?
EC: The aim is to launch the first version before the end of 2021 and then add to it over the coming seasons, with special features, behind the scenes content, games and more.
How do you see this technology advancing the fan experience through broadcast going forward?
EC: As a team, we do not have the right to broadcast live footage from the Grands Prix, but we really believe that the app is a great way to enhance watching a Grand Prix through constant contact with the team. Above all, it will be vital to maintain that contact in between the Grands Prix and in what we could call downtime, because one should not forget that the 23 Grands Prix are the highlights of the season for a Formula 1 team, but the work never stops from January through to December.