FIFA certifies EVS Xeebra for its Virtual Offside Line
EVS' Xeebra AI-driven offside line technology has successfully completed FIFA's Quality Programme for Virtual Offside Lines (VOL). The FIFA Quality Standard certification for VOL highlights the accuracy and consistency of the EVS solution.
EVS took part in two independently run testing events in September 2019, hosted by LaLiga clubs Getafe CF and CD Leganés, that examined both the 2D positioning of the offside line and the 3D body positioning of the players. Over the two days, 40 different match situations were tested with two cameras for each situation to determine the accuracy of the offside line.
This VOL certification provides validation that EVS' offside line technology meets a certain set of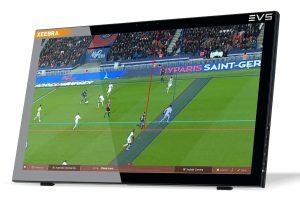 standards and can deal with the complexities that come with precisely determining the offside line. And since this technology is fully integrated with EVS' multi-camera review system Xeebra, it also means EVS can apply for future tenders from FIFA – as well as from other leagues and federations – that include the offside line with VAR.
"Offside decisions can be decisive in determining the outcome of football matches, making it vitally important that the virtual line drawn by our Xeebra system is as accurate as possible," said Stéphanie Dessart, senior product manager at EVS. "From camera angle limitations, to the height of the body part deemed to be offside and the curvature of the pitch, several factors have to be considered. This certification from FIFA proves that Xeebra is able to deal with these challenges, consistently meeting high accuracy and repeatability requirements."
Xeebra uses machine learning technology, enabled by EVS' software engine VIA Mind, to automatically calibrate the field of play, while a multi-camera review feature allows users to overlay an offside line for VAR operations during matches. The AI-driven calibration doesn't require any pre-game setup or the deployment of additional equipment, using images from the live broadcast camera feeds to save time and ensure the highest level of precision.