FIFA Films takes control of its destiny with live and archive footage at the Women's World Cup 2019
At the beginning of 2019 FIFA Films brought its content archive in-house. This archive is the stuff of legend, containing content from as far back as 1930, the year of the first FIFA World Cup in Uruguay. This is all part of FIFA's TV strategy to take control of its vast assets and grow value accordingly.
Now that FIFA Films is in control of its entire archive, it intends to make a lot of fantastic content using it. Now that the FIFA Women's World Cup France 2019 is over, FIFA Films is set to get stuck into its archive footage, working with a number of leading sports production partners, to create content that will be published across as yet undisclosed platforms.
Taking control
Comments James Reilly, group leader at FIFA Films, speaking to SVG Europe at the IBC in Paris when the Women's World Cup was in full flow, "we insourced our archive at the beginning of 2019, so we're much more in control of our own destiny".
He went on: "I'm really pleased we've improved our archive to such an extent that we can make a lot of really exciting content. We've changed our business model and are partnering with high end sport film producers, and we're talking to a lot of platforms about distribution."
FIFA Films is the department responsible for audio visual content at FIFA. It manages, maintains and commercialises FIFA's unique audio visual archive. Based in Zurich, FIFA Films holds over 30,000 hours of reels, video tapes and digital files. The collection also contains moving images from all FIFA competitions to date.
Reilly is particularly excited about the FIFA TV team crew footage that was produced at this Women's World Cup. The project has been in place at the last three men's World Cups and this year for the first time there is one film crew per team, with 24 in total. The vast amount of footage being produced daily by the team crews is set to push FIFA TV's total content production for this event past the 1,700 hours expected, closer to 2,000 hours.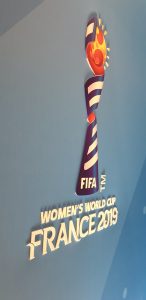 Says Reilly: "The teams are asked to provide us with two players per day for exclusive interviews on the match they've just had or the match about to happen, and this year the interview format is much more personal; we have players interviewing each other, asking about their history at five years old, 10 years and 15 years, playing kick up challenges with teams against teams, it's really good fun."
Exceptional content
All the content is made available on a central server, the FIFA Max, to which FIFA's Media Rights Licensees have access. Host broadcaster staff from HBS, working under Reilly, create bespoke pieces. The broadcasters also have access to all the daily rushes.
Adds Reilly: "Credit to the guys on the road and the teams playing; the level of content they're getting is exceptional. [Our crews] are very lucky to be able to get such access to the players and create such engaging content."
Speaking at the IBC while flicking through content on FIFA Max, Neil Darroch, senior manager TV operations at FIFA, explains: "Everyone at home sees the match, but this is real behind the scenes stuff. The crews are developing real personal relationships with the players, who really open up in interviews. It's very personal, showing them as real human beings, but it's also fun; you see them laughing and playing around in front of the cameras."
The reason for the high level of cooperation from the teams comes in part from their desire to spread the word of women's football, explains Reilly: "Many players and coaches see it as their responsibility to make the game more accessible, which of course mirrors FIFA's approach."
Live and archive
FIFA Films has created a large number of digitally remastered films and documentaries using the archive, which are now available in HD. The footage is now stored in a central digital system, ensuring quick and easy access for each client's requests.
Yet the biggest challenge for FIFA Films in terms of content production for this year's Women's World Cup was the production of the film about the event. The production of a four part 52 minute film was made available just three hours after the final whistle blew in the final game of the event.
The first three parts were made available to broadcasters before the final match; these three sections wrap up all the action of the event up to and including the quarter finals. The final section covered the semi finals and the final itself, so had to be edited and pulled together very quickly, while still keeping to the high standards of the previous three parts.
Comments Reilly: "It's very filmic, beautifully shot and edited, so the big challenge is to get the film rushes from Lyon [where the final was played] in and edited [to that standard], so the whole thing is ready to be played just three hours after the final whistle."
After that final push, FIFA Films can now relax a little before it is time for it to start working on new content developed through its vast archive of material.
FIFA Films is part of FIFA TV, which is split into four sections with around 35 staff members in total: sales and distribution; broadcaster servicing; host broadcast production; and FIFA Films.