FIFA Football Conference identifies emerging trends and tactics from 2018 World Cup
Coaches and technical experts from nearly 200 member associations and all confederations gathered at the FIFA Football Conference in London at the weekend to analyse the latest footballing trends and tactics showcased at this summer's showpiece event in Russia.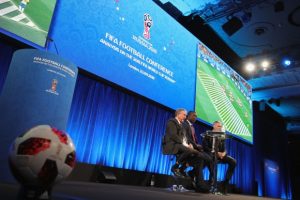 For the first time, coaches and technical experts of all member associations were invited to gather at a single post-FIFA World Cup football conference to analyse and discuss key learnings and experiences from this summer's FIFA World Cup.
FIFA president Gianni Infantino said: "Today, for the first time, the national team coaches and technical directors from nearly 200 Member Associations gathered in one room and I can only be honoured about it, as FIFA President and as football fan. This event fully reflects our philosophy of placing football and key representatives from across the game — including players, coaches and technical experts — at the heart of our activities."
During the conference, the head of FIFA's Technical Study Group (TSG) and coaching legend, Carlos Alberto Parreira, along with FIFA's Chief Technical Development Officer Marco van Basten shared their insights across four key areas, including a comparative goal analysis from the 2010, 2014 and 2018 editions of the FIFA World Cup, set plays, an analysis on some of the four FIFA World Cup semi-finalist teams and the role of the playmaker at the FIFA World Cup. The full TSG report on the 2018 FIFA World Cup is due to be published on 16 October 2018.
France's path to FIFA World Cup glory also took centre stage during the live interview with Le Bleus coach Didier Deschamps. Answering a variety of questions from coaches during his panel session, Deschamps highlighted the importance of teamwork and man management, as well as how coaches should help create the right environment for each player across all areas of their preparation in the lead up to a match and a major tournament.
Attending coaches and technical experts at the FIFA Football Conference have also been invited to engage further in separate panel discussions and confederation meetings during the conference, providing an additional opportunity to share specific lessons and experiences learnt in Russia.
In particular, an overwhelming consensus was reached by coaching and technical experts throughout the day about the high quality of football witnessed during the tournament, as well as the improved fair play on the pitch.
During the afternoon working sessions, the chairman of FIFA's Referee Committee, Pierluigi Collina, along with FIFA's Director of Refereeing, Massimo Busacca, also presented an overview on refereeing matters, including the successful implementation of the Video Assistant Referee (VAR) at the 2018 FIFA World Cup.