FIFA World Cup 2018: IBC opens in Moscow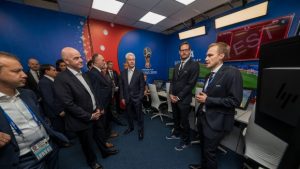 The International Broadcast Centre (IBC) for the 2018 FIFA World Cup opened on 9 June in Moscow in an official ceremony attended by FIFA President Gianni Infantino and a number of high-profile local dignitaries.
During a guided tour of the IBC by FIFA's TV broadcast production experts, the delegates also stopped by the Video Assistant Refereeing (VAR) room, which will be the hub of all VAR operations during this year's FIFA World Cup, where they received a demonstration from FIFA Refereeing experts Roberto Rosetti and Massimo Busacca, working alongside FIFA Football Technology Innovation specialists Johannes Holzmüller and Sebastian Runge. President Infantino then welcomed an audience of international print and broadcast media and opened the IBC of the 2018 FIFA World Cup.
"The IBC is the 13th 'official venue' of the FIFA World Cup, beside the 12 stadiums; but in terms of audience, it is in fact the first. The entire world will be able to benefit from this beautiful and fantastic FIFA World Cup thanks to what is happening here in this IBC. For the best ever FIFA World Cup, we have the best ever IBC as well", said Infantino.
The FIFA President was joined for the event by Mayor of Moscow Sergey Sobyanin, Deputy Mayor of Moscow Alexander Gorbenko, President of the Crocus Group Aras Agalarov, Chairman of the Russian LOC Arkady Dvorkovich and CEO of the LOC Andrey Sorokin.
The IBC is where the host broadcast feed for all 64 matches will be processed, monitored and beamed to TVs, radios and digital devices in 219 territories around the world. Additional content will be produced here as well: from daily highlights shows and team updates, to story features and promos. It is also the headquarters for all Media Rights Licensees (MRLs), the national and regional broadcasters who have bought the right to show FIFA World Cup matches.
In addition to the production and office space used by 78 MRLs at the IBC, there are also 13 outside presentation studios on Moscow's iconic and picturesque Red Square.