Fired up to win: Broadcasting Belarusian football to match-hungry fans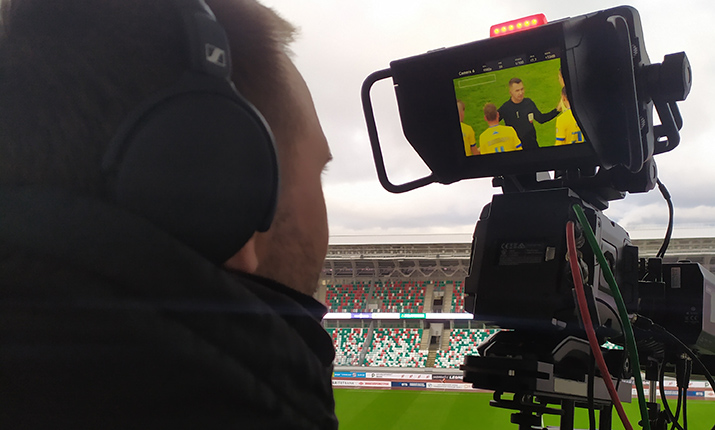 Although many national sports leagues had to take a pause at some point during the COVID-19 pandemic, the Belarus Football Federation was able to run its entire summer season of matches, broadcasting to a worldwide audience.
As the governing body of football and futsal in Belarus, the federation organises the Belarusian Premier League, Belarusian national football team and the Belarus women's national football team.
Sports broadcasting and live production specialist Specmedia has been responsible for the host broadcast production at all of the federation's fixtures since 2018. The 40-strong team delivers production for more than 260 matches a year, often travelling 700km to cover three to four games in a day.
"Currently all of our production kit is housed in portable racks that are brought to each stadium and temporarily deployed for each match. There are a lot of moving parts to make it all happen, from travel routes, planning of resources and ensuring that we have a dedicated space assigned at each stadium to help keep the installation process efficient," explains Dmitry Sergeev, chief executive of Specmedia.
"The plan for 2021 is to build an OB van to streamline this even further, which will be a fantastic opportunity to refine our workflows, potentially with an introduction of UHD delivery for some fixtures."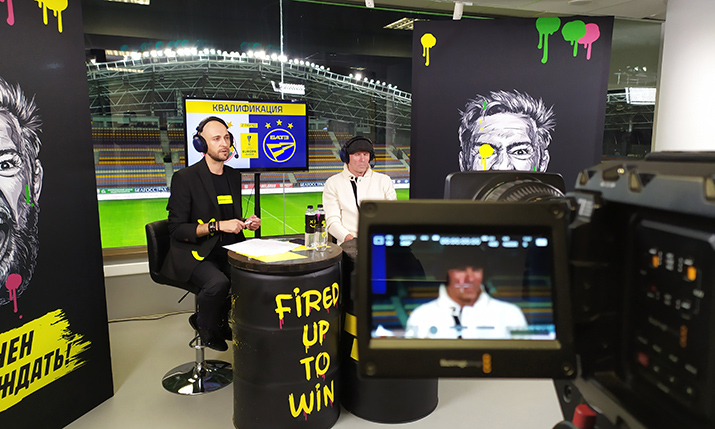 Up until 2020, all federation matches needed to be filmed with a five-camera set up, with Specmedia relying on two URSA Broadcast or URSA Mini Pro and three Blackmagic Studio Cameras, with this growing to seven for the upcoming 2021 season.
"The URSA cameras are paired with Canon HJ8 and HJ14 lenses for gantry coverage, while the Blackmagic Studio Cameras are all equipped with Olympus 2.8 PRO, which give a sharp, crisp image," continues Sergeev. "For some matches, we've also incorporated 4K micro studio cameras with fisheye lenses at either end of the stadium to capture shots on goal head-on.
"As well as offering us great picture quality, the fleet of cameras works very well in all weathers, even snow and rain, where we can often find ourselves in outside broadcast work!"
Match coverage is vision mixed live on an ATEM 1 M/E Production Studio 4K and ATEM 1 M/E Advanced Panel. An uncompressed optical signal is delivered for national broadcast and European partners can access a 1080p50 8000-bit stream.
As well as the Belarus Federation, Specmedia has delivered coverage across UEFA qualification and Champions League Elite Round group fixtures.
"When we first started in 2017, we were one of a few companies working with Blackmagic Design live production workflows. However, as our own systems have grown and developed, many partners and colleagues have also seen the benefits and made the switch themselves," Serge concludes.
"There is a lot of collaboration between OB providers, so knowing we have a huge pool of products that will integrate with minimal effort and fuss ensures efficiency, no matter where we're working."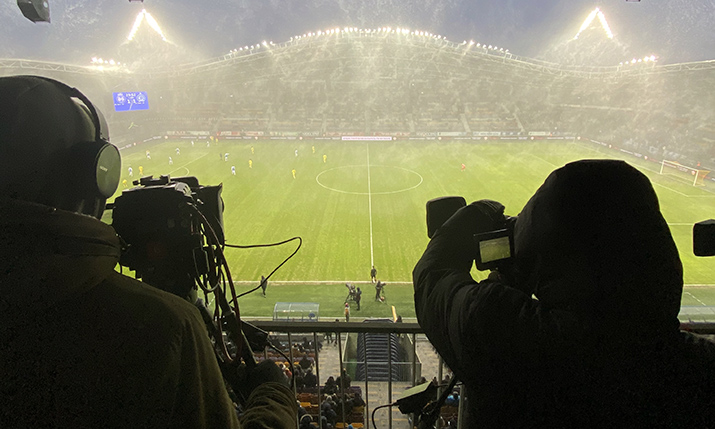 ---