First SVG Europe Women virtual event shares COVID-19 perspectives from across the board [VIDEO]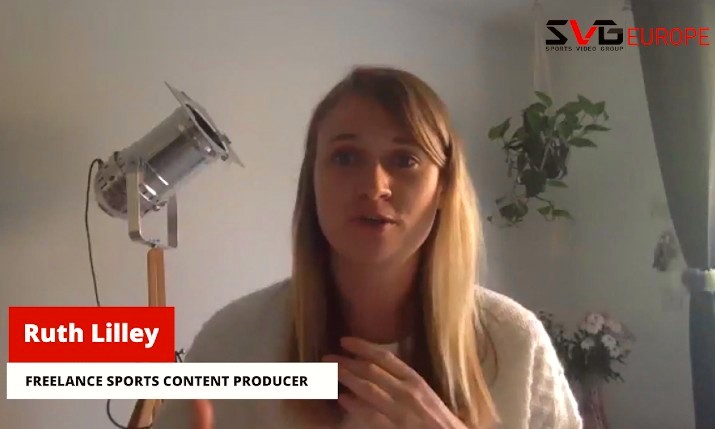 SVG Europe Women held its first virtual event on 6 May, with speakers from across the sports broadcasting board.
The event was an overwhelming success with around 200 people tuning in live.
First attendees heard from Ruth Lilley, freelance sports content producer, who spoke about her tumultuous year, which marked her return as an independent in the sports broadcasting industry after almost two years working at DAZN as an assistant producer on Premiership rugby.
Her talk titled, 'Survival: Life as a sports broadcasting freelance in the year of COVID-19', covered how the pandemic hit her growing work calendar as sports tournaments began cancelling, and how she is surviving lockdown.
During her talk, Lilley spoke about how she has fallen through multiple financial support brackets since the COVID-19 crisis hit the UK.
She said: "The government announced their self-employment help, and I fell through the bracket, being recently self-employed. I applied for universal credit but because one of my clients pay me by pay as you earn, I also fell through that bracket as well.
"So in the next few months to come it's going to be a cycle where I'll be dipping into my savings because I'm solely responsible for my mortgage and bills; I'd put aside some money for tax from every job so those savings [were] already being used for something else, and now I'm going to be dipping into them."
---
Watch a re-run of the event
---
After a Q&A, Lilley was followed by Roisin McKeniry, head of production technology at Timeline TV for BT Sport, who spoke on 'Innovation: Being part of BT Sport's remote decentralised production'.
McKeniry looked at her role in BT Sport's move from its outside broadcast and studio-based production model to a completely remote, decentralised system. She discussed her role in this move, which took just three weeks, and what it is like to now work in such a radically different environment.
While McKeniry said during her talk that while the technologic transition for BT Sport had its challenges, it is the lack of true human interaction that she, as a manager, is now finding more difficult during lockdown.
She commented: "It was really, really difficult to keep people motivated through the whole thing. As a manager who's quite hands-on […] what I'm really struggling with is that lack of that one to one; a Zoom meeting doesn't give the same feeling of the subtleties of human interaction. Technology is fabulous but it doesn't really help you when someone's having a really bad day, and you can't pick up on it as quickly as if they were standing there in front of you. But we are getting there."
As so many questions were asked by the audience during the live show, the two speakers will be talking to head of SVG Europe Women and SVG Europe editor, Heather McLean, next week to answer a selection of the best questions in recorded Zoom interviews.
During the event McLean also announced that the second SVG Europe Women virtual event will take place at 4pm on Wednesday 10 June, where she will interview BBC director of sport, and winner of the SVG Europe Women Achievement Award 2020, Barbara Slater. Stay tuned for more details.