Following on: How Sunset+Vine will cover The Ashes for BT Sport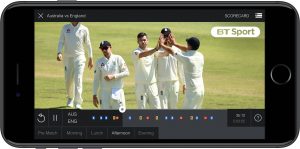 When it comes to sporting rivalries, it doesn't get much more fierce or high profile than England versus Australia and the contest for The Ashes. Forget the cricketing cliches about village greens, the gentle sound of leather on willow or the taking of afternoon tea. Recent series have featured mid-series pub brawls, verbal threats of violence and a general lack of respect on both sides. Oh yes, and some pretty intense cricket too.
Thanks to more than 100 years of antagonism, both sporting and imperial, the Ashes is more important than any other Test series for English and Australian cricketers and cricket supporters alike.
The rivalry between Sky Sports and BT Sport is not nearly as fierce or enduring but having exchanged blows on the football pitch, the two broadcasters are now competing for cricket rights too. Sky Sports recently outbid its rival to claim a long-term extension to an agreement covering England's home international Test matches, one-day internationals and T20s as well as domestic and women's cricket until 2024.
It also has a long history of covering the sport overseas and, since England's tour of the West Indies in 1990, had been the only UK broadcaster to have provided live televised ball-by-ball coverage of England's 'away' test series'.
That all ended in 2015 when BT snared the UK rights to show cricket from Australia. This deal gave it exclusivity to the Big Bash T20 limited overs competition and every home Australia international including the Ashes.
As such, starting on Thursday 23 November at the Brisbane Cricket Ground, better known as The Gabba, BT Sport will show each of the five 2017/18 Ashes test matches in HD, taking the world feed provided by Australian host broadcaster Channel 9.
But rather than just passing on the host's broadcast to UK viewers, BT Sport is putting some serious resources into its output, sending the hugely experienced production company Sunset+Vine to provide additional unilateral coverage from Australia.
The result will be live ball-by-ball coverage of each day's play plus bespoke content before it starts and during the lunch and tea intervals, and an hour of close-of-play analysis and interviews. A 90-minute highlights package will be transmitted approximately an hour after the close and various live and on-demand elements will be made available via the BT Sport App throughout.
Unlike previous years, there will be no free-to-air terrestrial TV highlights programme available in the UK so BT Sport will make a short highlights package available online at 7pm GMT each day. When you consider that the matches take place overnight UK time, on the other side of the world, this is a significant commitment to a sport to which BT is still very new. But it illustrates the importance of the event.
The 'Greatest Series Ever'
While BT Sport may be making its Ashes debut, Sunset+Vine is no stranger to cricket or to BT Sport. It produces BT Sport's Premier League football and last year provided studio-based production for BT for the test matches between Australia and South Africa.
Sunset+Vine is also responsible for all International Cricket Council (ICC) events — including the Cricket World Cup — as host broadcaster and covers the Pakistan Super League and Caribbean Premier League, among other things.
Famously, its cricket production heritage also includes live coverage of English test cricket between 1999 and 2005, including the so-called 'Greatest Series Ever', the 2005 Ashes, shown live on Channel 4.
For the 2017/18 incarnation, with Channel 9 as the host broadcaster, the opportunities for production and technology innovation are limited. But that is not to say that the coverage will lack shine or emphasis. Sunset+Vine has agreed a deal with Channel 9's OB provider NEP that will result in BT having its own truck. It will have four, sometimes five, unilateral cameras that will provide an England-centric perspective on proceedings and BT Sport specific on-screen graphics will be added to the host feed along with virtual eye elements.
A 39 person-strong production team will work on the coverage with 17 flying out from the UK and a team of 10 back in London compiling the highlights package. BT Sport will take footage from production and compile and distribute its own digital output.
Making it fun through talent
The really big differentiator — and where BT Sport's personality will shine — will be in the presentation. While Sky Sports packs its commentary box and presentation studio for test matches with smartly dressed former England captains, BT Sport and Sunset+Vine have, thus far, taken a more relaxed approach to cricket, introducing sofas and giant plasma screens to its studios and allowing analysts to enjoy takeaway pizza in the early hours.
This relaxed, and dare we say it 'fun', approach will be continued forward into the serious business of the Ashes.
"You make it fun through your talent," explains Jeff Foulser, chairman of Sunset+Vine. "We want to
get the tone right. We'll take the game seriously but not ourselves. We want people to be informed and entertained. It is our role to ensure that the coverage is completely credible and authoritative but also fun. I'm not saying it'll be better than Sky but it'll be different and people can make up their own minds whether they prefer it. It will be a different approach because we take that approach with all our sports coverage. It's not life and death."
Editorially, Foulser believes the commentary and analysis team is very strong. Fronted by BT Sport's Matt Smith, it includes two former Ashes winning captains — England's Michael Vaughan and Australia's Ricky Ponting — plus ex-cricketers Geoffrey Boycott (England), Adam Gilchrist (Australia), Graeme Swann (England) and Damien Fleming (Australia), backed-up by established broadcaster Alison Mitchell.
"We know these guys well and they've been selected because of their ability to engage and entertain an audience," adds Foulser. "Look at Graeme Swann. Not everyone will like him but you're never going to get bored listening to him.
"Ricky Ponting was a revelation last year. He is still close to the Australian team and he gives you really good insight into what goes through the mind of cricketers. And that is what we're trying to do: get under the skin of the game and tell people at home something they wouldn't have dreamt of knowing. That is key. If you do that, you create interest."
As an extension of this approach, presentation will predominantly take place at a BT Sport style desk on the outfield rather than in the confines of a studio and cameras will move all around the ground.
"The majority of our cameras will be mobile, giving us a sense of scale and the ability to really personalise it for the UK audience," adds Foulser. "It'll be very energetic. We will get out amongst the crowds and capture the atmosphere of what it is like to have an Ashes test series in Australia."
Catch up as soon as you wake up
While the ball-by-ball live coverage and highlights are absolutely crucial, BT Sport is putting significant emphasis on its digital output too. "The enhanced live cricket player in the BT Sport App is perfect for the Ashes as it gives viewers the chance to catch up with everything as soon as they wake up," says BT Sport chief operating officer Jamie Hindhaugh. "You can watch the full day's play again from ball one, or watch live. You can use the interactive timeline to watch all the wickets and key incidents."
The broadcaster will even have a small team of people out in Australia creating digital content and a behind-the-scenes documentary-style video telling the story of the Ashes away from the pitch, from the viewpoints of the players and fans, will be produced.
Of course, the people that will really make or break BT Sport's coverage — TV and digital — are the players out on the field. And this is out of their hands.
"The key will be if England do well," acknowledges Foulser. "If England do well there will be a lot of interest. If they get hammered like they did the last time they were in Australia [when they lost the Ashes 5-0], then people will switch off very quickly. That is the reality of it. You are always reliant on the guys on the field. If they deliver, it makes it easier for everybody else."
Coverage of the Ashes starts at 11pm GMT on 22 November 2017 on BT Sport and the BT Sport App.