Football Production Summit 2018 to examine World Cup preparations, media hub potential and 4K remote production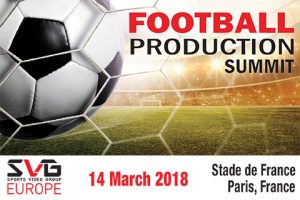 SVG Europe has announced its draft programme for the 2018 edition of the Football Production Summit, which will take place on 14 March at Stade de France in Paris. As might be expected given that this is a World Cup year, broadcast preparations for this pivotal tournament will be among the topics of discussion, alongside the potential of large-scale media hubs and emerging technologies including live remote production and next-generation audio.
After its 2017 visit to the Allianz Arena, Munich, this year's Football Production Summit sees SVG Europe return to the Stade de France. More than 300 people are expected to attend the summit, which will offer an opportunity for delegates to meet and learn from influential figures in European football production and broadcast technology innovation.
The summit will feature two sessions dedicated to this summer's footballing extravaganza, 'Inside Look at 2018 World Cup Russia with FIFA and HBS' and 'FIFA World Cup 2018 Russia: Rights Holder Perspective'. Expect exciting technology previews and discussion as another eagerly awaited World Cup draws near!
The programme will also include a view of the French market from a leading broadcast representative, while the creative and technological ramifications of 'Football Clubs as Media Hubs' – in which already complex football club infrastructures are evolving to encompass more and more content creation, distribution and social media expertise – will be considered by an all-star panel.
In 'League Perspectives: What's Next for Football?' league production will leaders discuss their current season and what they would like to see in terms of next-generation technology developments related to UHD, HDR, AI, VR, VAR and more. Another aspect of modern football production will come to the form in 'Making the Beautiful Game Sound Even Better', as broadcasters and service providers mull the outlook for object-based audio and other NGA (Next Generation Audio) technologies.
The summit proceedings will close with an analysis of 'Uncompressed 4K Remote Production: Past and Future', with reference to a recent UEFA project that entailed transportation of live uncompressed UHD signals over 1600 kilometres, from the Krakow stadium to BT Sport's London HQ. An even more all-encompassing look at OB, remote production and related issues will be provided by the final session, 'OB Panel: Rising to Constant Challenges of Football Production'.
Football Production Summit 2018 will include a site tour of Stade de France and multiple networking opportunities, including a buffet-style lunch and post-event drinks.
Demand is expected to be high for this event, so early registration is advised to avoid disappointment. For a full programme, and details of how to register, please visit https://www.svgeurope.org/football-production-summit-2018/.