Football Production Summit: Case study on the Premier League Archive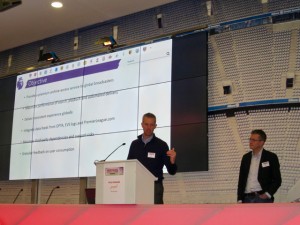 With a rebrand at the start of this season and a new contract term for broadcasters, the Premier League commissioned its production partner at IMG to create a One Portal platform for global broadcasters to access match information, news content and the back catalogue of match footage and programming from the archive.
Over a period of four months, IMG ported 500TB of broadcast quality match footage to a cloud-hosted instance of the Imagen Enterprise Video Platform. At SVG Europe's Football Production Summit in Munich March 22, Tom Barnes, IMG Vice President, Sports Video Archive and Tom Blake, Imagen CEO, presented a case study outlining the scale of the project undertaken and challenges encountered along the way this season.
"Both Nick Morgan from the Premier League and Nick Moody from Premier League Productions were involved in this: it was the foresight of the Premier League to build this archive for their broadcasters around the world," said IMG's Tom Barnes in his introduction. "IMG sells the Premier League archive around the world. The Premier League came to us and said 'we want to build a web site that gives our broadcasters access and keeps them happy'. IMG and Imagen were tasked with doing that in a relatively short space of time. It's very much as you would expect: a slick-looking web site that provides an intuitive experience for the user.
"You'll recall that at the start of this season the Premier League rebranded; that threw in an added complexity to this project," said Barnes. "Everything had to be new and completely different to what we had worked on before. We had to provide access to all the broadcasters. We had to provide search, playback and delivery, and a consistent user experience on a cloud-based solution provided by Microsoft.
"Whether you're in Australia or Africa or the Americas, we needed to provide the same user experience. So buffering needs to be minimal and download speed needs to be optimal. That has been a challenge, but the feedback we've had so far is good.
"The key with football is not just putting a 90-minute match video onto a web site; it needs to be supported with Opta data, team sheets and log-ins – and all of that takes time to integrate properly," said Barnes. "Thankfully Imagen is very experienced at doing that. We wanted to be less reliant on third parties: the more IMG and Imagen could control between ourselves, the better. That was fundamental," he said.
"There's a certain amount of media each broadcaster can download each month; if they go beyond that, there's a discussion to be had. There's a wallet system where each broadcaster has a certain amount of consumption.
And like all big projects," said Barnes, "this one needed to be delivered on time and on budget. To date, we have achieved that."
The system is made brilliant by the metadata available
Tom Blake from Imagen took us through some of the key enabling technologies for the new Premier League Archive. "The starting point was to take 4,500 matches from the Premier League's history, a mix of SD and HD content. We had to take that from the on-premises MAM system where it currently resides, to make it accessible to broadcasters via the cloud. To do that we constructed an architecture using the Microsoft Azure cloud, with software deployed in some key strategic locations so that the storage was closest to the audience.
"In a normal project you would have the media residing in one central location; but if you're out in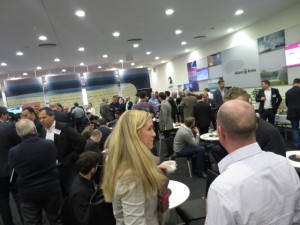 Australia trying to search and retrieve media from London there's an intolerable latency there. In total we had to migrate over 450 Terabytes from an LTO archive at IMG Studios onto the cloud within a three-month timeframe, in order to get it rebranded and available live for the start of this season.
"Once that media was in the cloud, then a replication process needed to happen to move into data centres in LA, Sao Paulo and Singapore so that it is there. We needed to transcode, create proxies and different versions to be viewed on iPhones on web browsers," said Blake.
"There's a single sign-on access, giving you a menu for the Premier League, of which the archive is one. You can browse or search the archive, and in search mode you have the ability to jump — due to the fantastic logging and metadata in the system – directly to the point in the video that you want to view. It's not just about having the content; it's having the quality of metadata and search experience.
"You can then pull up more information about that match, thanks to the integration of Opta and all of that is interlinked with the timecoded references in the video. It's a rich engagement experience," he said.
"Once you've found content you can mark an in-point and out-point on the timeline in proxy media – and then, assuming you have sufficient credits in your balance, you have the ability to order a download of that clip from the broadcast original. At that point the system will send a timecode marker back to the nearest data centre with a copy of that original broadcast content, and restore just that clip of content from the original master format file.
"That gets delivered into your own basket, consuming the correct number of credits on the way. Once there, the next thing is to get that content downloaded to your desktop, embedding or baking into the platform some accelerated file delivery to ensure the system delivers that file as fast as possible to your edit suite in order for it to be cut into your production.
"Behind the scenes, there's a need to be have analytics around the system to see where the media is being stored; which user has downloaded which clips of media; and what the most popular search terms have been. There's a lot of intelligence there to inform the administrators to, hopefully, inform editorial in order to make decisions for the future," said Blake.
"The system is made brilliant by the metadata available, both logging through the EVS IP Director system and also through the Opta feed that brings that content and search experience to life – in order to be able to search and to browse," he said.
Audio, API and character issues and glitches
"There were a few unforeseen challenges along the way," added Tom Barnes from IMG. "When we launched back in August, Microsoft had a limit on the size of file – 200 Gigabytes — you could upload to the Azure cloud. Some of the HD Premier League recordings can be double that size. We had a problem there at launch. Thankfully Microsoft have since increased that limit exponentially so it is never going to be a problem in future.
"We had issues with audio tracks that were very long and very boring – and I will save this room from them now! We also had some issues with character representations, such as umlauts on players' names. Small things like that, and an API integration issue initially. But thankfully we overcome all those issues.
"What happens next? All ten games that take place each week this season are logged and uploaded in a timely manner. So the Premier League broadcasters around the world have constantly got the latest material they need to put into their programme to use however they wish. That's key," he said.
"The Premier League is looking to give its other stakeholders – the 20 Premier League clubs – access to this content now as well. A lot of clubs have their own archive, but this will be a centralised offering for them. Imagen continues to develop software, with enhancements every two or three months.
It was a very interesting journey," Barnes concluded, "and we'd like to thank the Premier League for the opportunity to do this project. This is certainly a value-add for a broadcaster."