Football Production Summit: Federations, leagues and rights holders discuss new technologies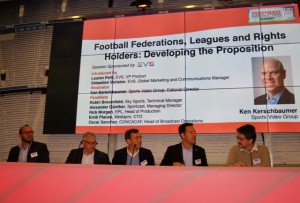 How do football federations and leagues work with broadcast rights holders to manage the production of their output, and how do they plan the adoption of new technologies? Of course innovation is compelling, but it must be balanced against ongoing contractual and delivery requirements each season.
At SVG Europe's Football Production Summit in Munich's Allianz Arena March 22, Editorial Director Ken Kerschbaumer led a new technology panel discussion involving Robin Broomfield, Sky Sports UK, Technical Manager; Alexander Günther, Sportcast, Managing Director; Nick Morgan, English Premier League, Head of Production & Operations; Emili Planas, Mediapro, CTO; and Oscar Sanchez, CONCACAF, Head of Broadcast Operations.
Kerschbaumer began by asking the Premier League's Nick Morgan about the motivation for innovation. "When you evaluate new technology and when you want to use that technology, what considerations apply?" he asked.
"There is innovation around doing new things: virtual reality is a perfect example of something that's brand new," said Morgan. "The question there is, to whom are you serving it? As important for us is innovating around things we do now, but doing them better.
"Whether it's the match coverage itself or the ancillary services we provide, it's not necessarily about finding something unique that might only appeal to a very small part of our audience. We have a global population of football fans and football broadcasters, and if we can find ways to make that core product better, that will mean just as much as finding an innovation just because it's there and we can say 'we're doing it'.
"We're looking to provide added value from added services," Morgan continued. "We're very fortunate in that our two live broadcasters, Sky and BT Sport, are incredibly innovative and we get to ride on their coat tails in many ways as to what we can offer internationally. And let us not forget the BBC; collectively we have three brilliant host broadcasters. Innovation is happening naturally outside of us, and therefore we can benefit on the inside.
"We have 85 customers, with a reach of 800 million fans," said Morgan. "It's their job [rights holders] to market to their fans. It's our job to make their experience of being a Premier League rights holder better, and we do. We have a great core product. It's up to us, and our colleagues at IMG, to enhance that core match coverage. We want to bring people closer to what we're doing, giving them better access to our archive so that they can create better programming to promote the League and their own coverage — so that their customers watch for longer or watch more," he said.
Concerning the Bundesliga Alexander Günther said, "In the last ten years we have established all the ingredients to enhance our programme. Audio and video are the basis of our world feed and we've produced over 7,500 matches and have built up an archive since 2007, hosting 100,000 hours of content.
"We established a data company last year, in order to also make that ingredient," said Günther. "So, audio, video and data combined with graphics – this is our approach to working with our media partners. Not only the broadcasters but all media partners, in order to find media solutions for the future. In 2015 we started testing virtual reality, augmented reality, Spidercam — and now we have made successful tests of UHD HDR. In different areas we are testing a lot in order to find out what works and what doesn't work."
The need to get closer to the pitch
With reference to Sky Sports coverage of the English Premier League Robin Broomfield said, "We're looking at more immersive camera coverage and more immersive audio, with Dolby Atmos. There are a lot of things I'd like to see us taking from other sports, to get us into the game more – the likes of Ref Cams and microphones on the refs that we currently can't use on football but can on rugby. There's the Intel Be The Player system that was used at the Super Bowl; it would be great to get a player's eye-view or a linesman's view. It's all in progress, but it costs money.
"Obviously we've moved the goalposts for the public by rolling out UHD this season: that gives us challenges in the amount of data we're feeding," said Broomfield. "More immersive is key, to help the viewer be in the game. You need to get closer to the pitch physically: a good example is the latest generation of Net Cams.
"It's always good to look at new technologies, and the key is the word 'testing'. I don't think we should rush into things," he said. "It's got to be a real improvement for the viewer.
"We need to look at the HDR colour space, and also High Frame Rate, which seems to have gone off
everybody's radar at the moment. This would certainly enhance things like replays in football coverage, bringing more clarity. We're settling into UHD at 50p and it's quite a comfortable production now, both for ourselves and BT Sport on the Premier League. We need to see how HDR develops: NAB will be a good ground to see how technology has evolved," said Broomfield.
Emili Planas, CTO of La Liga rights holder Mediapro said, "We've been working with UHD since the beginning of this season. We think that UHD is not a great difference to HD if HDR is not in the same package. We think HDR and UHD need to work better; we don't need more pixels, we need better pixels. It is a challenge for broadcast TV production," he said.
The mention of UHD HDR prompted Günther to add, "On Match Day 21 we made a successful test of UHD HDR on the basis of a combined production. On one truck we created two feeds, and as one part of that testing we looked at the difference between HD HDR and UHD HDR – all the different combinations. We worked with TVN and Sony in that case.
"For us, technology development is quite easy as we're right across the value chain, not only the outside broadcast but running the network and connectivity of all stadiums in the Bundesliga and we run the production centre in Cologne. We're also responsible for global delivery together with our sister company Digital Sports located in Cologne and we are able to modify the content solution. We are ready for the future with this approach," said Günther.
A happy wife and a happy life
Ken Kerschbaumer was pleased to introduce Oscar Sanchez by saying, "for the first time ever we can hear an American perspective on technology at SVG Europe. There's a lot of reticence towards UHD in America. At CONCACAF, where do you see technology improving operations?"
"Technology is a great tool for us to deliver something all our rights holders are asking for, which is consistency," said Sanchez. "In the past it was really hard to deliver consistency in production across our markets. Now with the introduction of new technology we are able to produce a very similar feed, whether it's for a Caribbean island or in the USA. That's the key point for us in terms of technology.
"For us, UHD is not popular," said Sanchez. "We produced the final of Copa America last year in 4K, and none of our broadcasters in the US were ready to take our signal. This year NBC, Fox and Univision are starting. With regard to UHD HDR, I think there's going to be a big breakthrough after the Confederations Cup – with all the work that the guys from FIFA and UEFA are doing. There's going to be a breakthrough.
"When you get on a truck and you see the difference between UHD and a good HD, it's fine. But when you get on a truck and see the difference between UHD HDR and and an HD, you will definitely see this is good. We are still following many of the things you guys here in Europe are doing. Don't do a 4K and an HD in different trucks, because you're going to be crazy!
"Someone once said, if you have a happy wife then you have a happy life! If we have a happy rights holder then we have a happy life," said Sanchez in summary.
Regarding standard HD and the uptake of 4K UHD the EPL's Nick Morgan said, "Although in the UK both Sky and BT Sport make all of the UK live matches available in 4K, we only make 20% of those matches available internationally and of that only 5% of our overseas customers take 4K.
"HD is still our bread and butter – and in fact in some territories it is down-converted to SD. So, as much as we are fortunate to be riding on the coat tails of Sky and BT, we don't want to lose sight of our international audience.
"We are catering for a mass audience: AR and VR, certainly in terms of personal devices, are a very new and niche technology. Of course we want to give our audience the best possible experience, and if that means adopting AR and VR in time, then we will absolutely look to do that. We have to look after the 99% of our audience. Just because a new technology is there and just because you can, it doesn't mean you should," said Morgan.
Oscar Sanchez concluded the session by saying the greatest desire of everyone in the football broadcast production chain is to get closer to the action. "As a federation – like all the federations – we are looking for more access, compared to other sports. At the moment, locker rooms are 'sacred places' – you cannot go there. You cannot have microphones on players or referees.
"But you see rugby and the refs have mics and cameras. We need to push to get that kind of access. This will take the fans to the place where they want to be – which is in the celebration with the players, right in the moment. As people in football, we need to push to get that access," said Sanchez.