Football Production Summit: Vizrt steps up to Title Sponsorship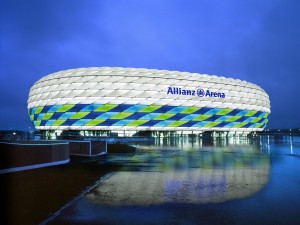 SVG Europe is delighted to announce that Vizrt has taken the Title Sponsorship for our Football Production Summit taking place March 22 at the Allianz Arena in Munich. Vizrt provides realtime 3D graphics, video playout, studio automation, sports analysis, journalist story tools, and asset management tools for the media and entertainment industry. This includes interactive and virtual solutions, animations, maps, weather, story and video editing, compositing, and multiplatform VOD and live playout tools.
The SVG Europe team looks forward to working with Vizrt on the Title Sponsorship for Football Production Summit, as we do with our other valued event sponsors – session sponsors EVS and Quantum, networking reception sponsor Quantum, and table-top sponsors EVS, Fletcher, Quantum and SonoVTS.
Visiting Munich for the first time, on 22 March 2017 at the Allianz Arena, Munich, the Football Production Summit will cover the new production, workflow and delivery developments for football production – the major driver for sports broadcast technology innovation throughout Europe.
The summit will deliver speakers and case studies from UEFA, IMG, Lawo, broadcaster Canal+, statistics/information display specialists Perform Media Deutschland, Sportscast, NEP and a wide ranging discussion with one of Facebook's senior executives on growing audiences with Facebook and Instagram.
Prior to Football Production Summit, the Sky's DACH Summit, in co-operation with SVG Europe, will be held on March 21 for Sky invitees at Sky Deutschland's  Munich HQ.
If you have a query regarding the programme agenda, please contact David Davies ([email protected]) or Fergal Ringrose ([email protected]).
If you are interested in sponsorship opportunities, please contact Chris Cope ([email protected]) or Clare Sturzaker ([email protected]).